January 28th, 2010
SHOT Show Report: Anschütz Displays Olympic-Grade Smallbore and Air Rifles
The 2010 Winter Olympics are coming up soon, so we asked Uwe Anschütz to show us the Fortner-Action rimfire biathlon rifle that will be used by the vast majority of top competitors. This high-tech 22LR rifle features a straight-pull action that can be cycled nearly as quickly as a semiautomatic. The rifle is designed to be carried on the back while skiing, then quickly deployed at the shooting stages, where competitors engage banks of targets either prone or standing. Note the slots on the forearm for storing up to four extra 5-round magazines.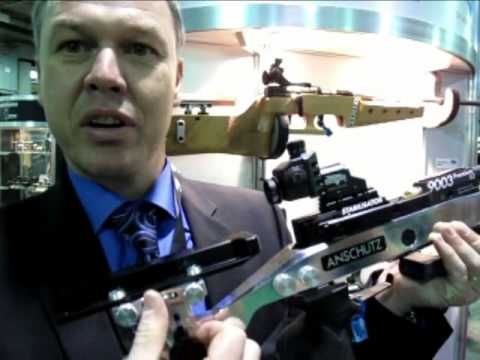 Olympic Medal-Winning Air Rifles on Display
In addition to the Biathlon Rifle, Uwe Anschütz showed us the model 9003 S2 Premium Air Rifle, which features a 9003 S2 action in the Precise aluminum stock. This state-of-the-art airgun earned medals at the 2008 Olympics in China, and it is a favorite of top compeitors worldwide. The model 9002 S2 features a very sophisticated buttstock assembly which with great adjustability. With this metal stock, you can adjust every point at which the rifle contacts the shooter's body, from shoulder to cheek to hand. Even the angle and fore/aft position of the trigger shoe can be adjusted.
Similar Posts:
Share the post "SHOT Show Report: Anschütz Displays Olympic-Grade Smallbore and Air Rifles"
Tags: Air Rifle, Anschutz, Biathlon, Fortner, Olympics, Rimfire, small-bore