January 18th, 2009
SHOT Show Report: Anschütz Showcases Olympic Rifles, New .223, Air Rifles
Anschütz, the legendary German arms-maker, harvested a ton of Gold Medals at the 2008 Beijing Olympics with its latest match rifles (both rimfire arms and air rifles/pistols). In addition to its state-of-the-art bullseye target rifles, Anschutz produces Biathlon rifles and hunting rifles. At SHOT Show 2009, company President Jochen Anschütz was on hand to show his company's latest wares, including the designs that won gold in Beijing. Jason Baney met with Jochen and got this exclusive Video Interview:
CLICK HERE to watch full-width VIDEO in Higher Quality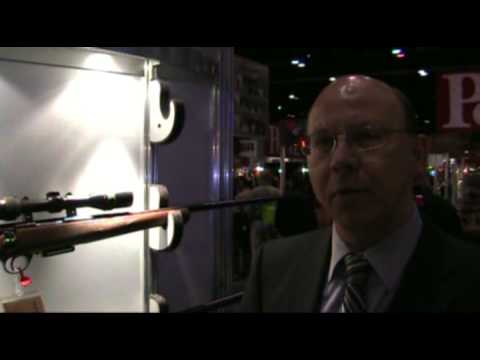 In the interview, Jochen noted that Anschütz has introduced a new Model 1770 hunting rifle, chambered in .223 Remington. This features a new six-lug action — the first all-new action design from Anschütz in 30 years. Below, Jochen holds the top-of-the-line Anschütz biathlon rifle. Designed for Olympic-caliber biathletes, this gun has a straight-pull Fortner action that can be cycled nearly as rapidly as a semi-auto.
High-Tech Aluminum-stocked Position Rifle
Among the Anschütz designs on display at Shot Show was the new Anschütz model 1913 position rifle with a gorgeous "1918 ALU Precise" brushed aluminum stock. It looked like it had been crafted in an aircraft plant.
Similar Posts:
Share the post "SHOT Show Report: Anschütz Showcases Olympic Rifles, New .223, Air Rifles"