January 9th, 2009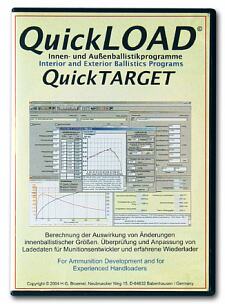 QuickLOAD is a unique software product that draws upon a vast database of cartridges, bullets, and powders to analyze (and predict) load pressures and velocities. While QuickLOAD data should NOT be substituted for careful, conservative load recipes based on powder manufacturers' recommendations, QuickLOAD is still a remarkable tool that can save you time and money. QuickLOAD can help you identify the most efficient powders for a particular cartridge/bullet combination, and it can also predict how changes to barrel length or seating depth can affect velocities and pressures. We recommend that serious reloaders consider investing in QuickLOAD, a $149.95 product from Neconos.com. To learn more about QuickLOAD, read our SOFTWARE REVIEW.
CLICK HERE for AccurateShooter.com QuickLOAD Review and User's Guide
Update Your QuickLOAD Software
New Bullet, Cartridge, & Powder Data in Ver. 3.4 — Including Reloder 17
For $14.95, QuickLOAD verion 3.0 – 3.3 users can also purchase a CD-based upgrade to the latest version 3.4. The upgrade provides complete data for many more bullets and cartridges, plus it includes hundreds of cartridge diagrams and photos. We think the upgrade to version 3.4 is well worth the cost for the updated bullet info alone, and the cartridge diagrams are a great new feature. And yes, the latest update includes Alliant Reloder 17 powder. If you are shooting a 6XC, 6-6.5×47, Rem 260, .284 Win, or a Magnum cartridge–Reloder 17 may boost your velocities significantly.
If you are a current owner of QuickLOAD version 2.9 or earlier on floppy disk, you can upgrade to the new CD-ROM for $50.00 + S&H. The latest CD offers more powders (218 total), cartridges (1200+) and bullets (2500+). Order through Neconos.com or call 800-451-3550.
NOTE: If you have QuickLOAD 3.0, 3.1 or 3.2 and want to use QuickLOAD with Windows VISTA you need a VISTA-compatible version. Send in your old CD and Neconos can replace it with a Vista-compatible CD (also works with Windows 98SE, ME, 2000, XP) for $14.95 plus S & H.