January 17th, 2009
Stiller's Precision Firearms showcased a variety of NEW custom rifle actions at the 2009 SHOT Show. Trust us, this is BIG News for builders of precision rifles, both rimfire and centerfire. Jerry Stiller has released no less than four (count 'em FOUR) new stainless actions this year. They are all impressive, and we predict the new rimfire actions will sell like hotcakes.
New Custom 40X-Clone Rimfire Action
Stiller Precision's show-stopper is a new 22 rimfire action based on 40X Remington design. Called the Predator 25X, this 40X-clone will be offered both as a single-shot AND a repeater. This is a much-awaited product. We predict huge demand for Stiller's rimfire actions. There is nothing else like it on the market. The repeater will be perfect as the basis of a rimfire silhouette action or a "tactical rimfire" gun. Stiller's rimfire actions cost $800.00 and should be available by mid-2009.
Predator V — RBLP Ejectorless Action
The second offering, sure to be popular, is the new "Predator V" action, described by Jerry as "an affordable BR-style action aimed at the varminter." It is offered in right bolt, left port only, with a cone bolt and no ejector. It's optimized for bench use for precision varminting, though it certainly could be used in a 600-yard BR comp gun or F-Class rifle. Jerry tells us: "The Predator V is a RBLP version of our Predator line with a few special features. It has a Sako extractor on a coned bolt with no ejector. There is about a .003″ fit on the bolt with a pinned trigger. The main market is high-performance varminting or benchrest. Shown below is our new 'full bling' polished Predator V model featuring a blue-accented Picatinny rail, knob and shroud. It is also available in matte or black finish without rails." The Predator V is IN STOCK NOW and costs $850.00 with rail.
P-1000 Long Range Action
The third new action unveiled by Jerry Stiller is the strong and versatile new P-1000 long range action. This is a RBLP, right-eject only unit with a beefy a 1.55″ diameter. The stainless P-1000 is offered in both short and long actions, with either .308 or magum bolts. The P-1000 is a very rigid action aimed at the long-range benchrest market. NOTE: the P-1000 short action will eject 284s and the long action will eject magnums such as the 300 RUM. The price for a P-1000 (with rail) is $850.00, and P-1000s should start to ship in late February, 2009.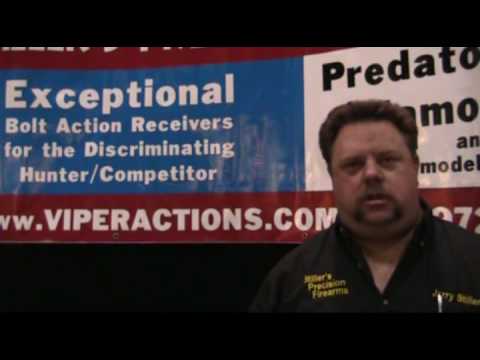 New .408 Cheytac Action
Last but certainly not least is Stiller's new TAC 408 action. This is a new long action with a .408 bolt-face. It is optimized for the .408 CheyTac and similar high-capacity, big-rim super-sized cartridges. This action should prove popular with ultra-long-range shooters. Call Jerry Stiller at (972) 429-5000 for price and availability of the TAC 408 action.
Spec, features, and options for Jerry Stiller's other stainless and aluminum actions can be found on ViperActions.com.