January 16th, 2009
SHOT Show 2009 officially opened yesterday, with thousands of gun industry professionals, wholesalers, retailers, and media persons streaming through the gates of the Orlando Convention Center in the morning. Check out the SHOT Flickr PhotoStream for a bird's eye view inside the Convention Hall. CLICK HERE to see the crowd on opening day.
No "Super-Zoom" From Sightron

Our Asst. Editor Jason Baney continued his quest for cool, new stuff at the 2009 SHOT Show in Orlando. Sadly, he had to report that the rumored 10-50×56 Sightron competition scope was nowhere to be seen. We know that Sightron is working on a 10-50X and maybe even 10-60X zoom scope as a followup to its very popular 8-32×56 scope unveiled at the 2008 Shot Show. However, the ultra-high-power zoom is still in the development stages. There ARE prototypes, we know that, but when (and if) the Sightron "super-zoom" gets finalized is still uncertain. Given the outstanding performance of the 8-32×56 30mm Sightron (as tested by Jason), we're hoping its "big brother" will make it into production. Message to Sightron: If an 8-32 is good, a 10-50 might be even better…
During gaps in his busy interview schedule, Jason was able to meet with some of our "friends of the site". At left, Jason meets Jim Scoutten, host of the very popular ShootingUSA TV series. This past year, AccurateShooter.com helped connect the ShootingUSA production team with leading long-range benchrest and F-Class shooters. We look forward to continued cooperation with ShootingUSA and other leading shooting sports broadcasters.
Jason also met up with Gordy Gritters, one of our recommended gunsmiths. As he did at last year's SHOT Show, gunsmith Gordy was holding forth in the Grizzly booth, demonstrating chambering and barrel-fitting to a wide-eyed crowd of on-lookers. In cooperation with Grizzly Industrial, Gordy is working on a series of gunsmithing DVDs. These will be a far cry from the typical smithing videos that show you how to tap a receiver or install a buttpad. Gordy's DVDs cover the advanced methods used to produce precision competition and varmint rifles. In one video segment, Gordy shows how to chamber and headspace a match barrel using a Grizzly G0509G 3-Phase Gunsmith Lathe. Below is a segment from the DVD showing Gordy fine-tuning the headspace as he fits a BAT Machine 'MB' action to the barrel. Working with precise indicators, you can see Gordy set the headspace to within a few ten-thousandths of an inch.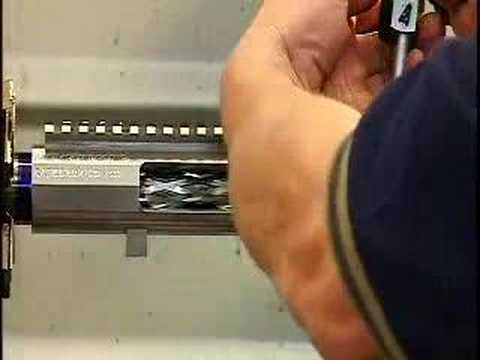 Ken Lunde — The Ansel Adams of SHOT Show
While Jason was roaming the floor, our friend Ken Lunde was doing his usual, masterful job of photographing new firearms at the show. Check out Ken's 2009 SHOT Show Report. It has dozens of great images of guns on display in Orlando. A very gifted photographer, Ken is also a serious varmint shooter and the owner of multiple Cooper rifles (one of which was featured as Gun of the Week). Naturally, then, Ken's "first stop was the Cooper Arms booth". There, Ken got a great photo of a sectioned (cut-away) Cooper m21 action. This is a "must-see". The Cut-away shows the inside of the chamber, tenon section, and even the inside of the bolt. It's like having X-Ray vision. Click on the Larger Image button to see even more details.
Photo copyright Ken Lunde, used by permission.