January 28th, 2010
SHOT Show Report: NEW Savage 110 BA Tactical Rifle in .338 Lapua Magnum
Savage Arms caused quite a stir at Media Day when it unveiled its new 110 BA big-bore tactical rifle. The 110 BA is initially available in two chamberings: 300 Win Mag, and .338 Lapua Magnum. The .338 version of this rifle is Savage's first-ever .338 Lapua Magnum, and it is VERY affordable compared to .338 LM tactical rifles from other manufacturers. We predict this gun will be a big hit with shooters who want the long-range capability of the .338 Lapua Magnum cartridge but who don't want to sell the farm to acquire a capable rifle. Once the initial demand settles down, you should be able to find a 110 BA for around $2000 (not including optics).

NOTE: Jason removed his eye protection for this photo. We recommend that shooters ALWAYS wear ANSI-certified eye protection.
The 110 BA gun comes complete with a detachable box magazine (DBM), target grip with base, a +20 MOA scope rail, and Picatinny accessory rails ahead of the action and on the side of the chassis. The stock has a comfortable cheekpiece that adjusts for height using a handy rotary knob. A similar knob controls the buttpad position, allowing you to "dial in" length of pull. As you'd expect, the 110 BA features a Savage Accutrigger.
CLICK HERE for large photo of Savage 110 BA (shows buttstock details)
On the gun we tested, the AccuTrigger broke clean and crisp under 2.5 pounds, with little overtravel. Fitted with an oversize bolt handle from the factory, the action was smooth in operation and effortlessly fed and extracted the big .338 LM cartridges. The gun demonstrated good accuracy with Hornady .338 Lapua Mag factory ammo, allowing Jason to make a first-round hit at about 800 yards. Jason liked the gun, telling us it "feels solid and well-balanced". Jason did note that the large muzzle brake creates quite a side-blast. When this Editor was taking video, Jason warned me to get out of the way of the blast. I moved back behind the shooter, but even there, the brake's blast could be felt.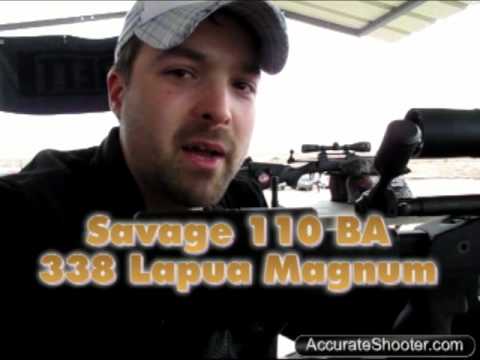 Quality Big-Bore Tactical for under Two Grand
The 110 BA establishes a new, affordable price point for a true big-bore tactical rifle. Both the 300 Win Mag and the 338 Lapua Mag versions have an MSRP of just $2267.00. We expect to see the "street price" on these rifles peg below $2000.00. That makes the .338 LM version of the 110 BA one of the most affordable .338 Lapua magnum tactical rifles yet offered to the public.
Similar Posts:
Share the post "SHOT Show Report: NEW Savage 110 BA Tactical Rifle in .338 Lapua Magnum"
Tags: .338 Lapua, 300 Win Mag, Magnum, Savage, Tactical