January 15th, 2009
SHOT Show Media Day Report: Savage Palma and Tactical Rifles
On the day before the official opening of SHOT Show, members of the media were invited to the Orlando Sheriffs' Range to "test-drive" some of the latest offerings from major manufacturers. As precision rifles are AccurateShooter.com's primary focus, two new guns from Savage Arms drew the attention of our Asst. Editor (and resident "hot-shot") Jason Baney. After meeting with Savage Chairman/CEO Ron Coburn, and Marketing Mgr. Bill Dermody, Jason got the chance to try out Savage's new .308 Palma Rifle, and the radical new, metal-chassis model 10 BAS Tactical rifle.
The handsome Savage Palma Rifle features a gray laminated stock with triple pillars. It boasts an adjustable cheekpiece, and adjustable length of pull (LOP) via spacers. Fitted with the Savage Target action, 30″ stainless barrel, and (4 – 12 oz.) Accutrigger, the gun promises outstanding accuracy. As you can see on the second half of the video below, Jason shot a 1/2″ group at 200 yards with the Savage Palma Rifle. Jason said the stock was ergonomic and the gun balanced well even with the long tube. The Savage Palma Rifle action is drilled and tapped for top or side-mount peep sights, so it can be fitted with either iron sights or scope. Savage is taking orders right now. MSRP is $1798, but the "street price" will be quite a bit less.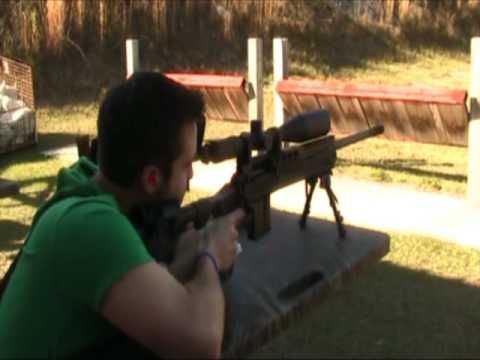 Bold & Black — Savage 10 BAS Tactical Rifle
The new 10 BAS is a radical departure for Savage. This wild-looking new bolt-gun features a blackened aluminum modular chassis, top and side Picatinny rails, a detachable box magazine, and not one but TWO adjustable (and removeable) buttstock configurations. One buttstock is similar to an AR15-style collapsing stock, while the other (on the BAS 'T' model) features a myriad of adjustments, and a straight, flat keel section on the bottom to ride the bags.
On this T-version stock, the buttplate adjusts for length of pull (LOP) and cant angle and the cheek-piece adjusts both vertically and fore and aft using a rail and a rotary locking knob.
What's our take on the radical 10 BAS rifle? For police and military applications, the rails offer great versatility. For tactical comps, we liked the ergonomic grip, 10-round detachable magazine, and the easily-adjustable LOP. The 10 BAS will initially be offered in .308 Winchester only. Based on the model 110 action, the 10 BAS comes with a 24″ barrel and a proprietary muzzle brake. It even accepts most AR15 buttstocks. We don't know of any domestic manufacturer offering a "tactical" bolt gun with all the features found on the 10 BAS. We expect this rifle to cause quite a stir when SHOT Show doors open this morning.
Photos by J. Baney, copyright © 2009 AccurateShooter.com, All Rights Reserved.

Similar Posts:
Share the post "SHOT Show Media Day Report: Savage Palma and Tactical Rifles"