January 30th, 2010
SHOT Show Report: Kelbly's Offers New Products for 2010, including 80-power Zoom Scope
We had a chance to visit with Jim Kelbly of Kelbly's Inc., at SHOT Show 2010. Jim had all the new March scopes on display, including the amazing 8-80x56mm long-range scope, part of March's ground-breaking 10 times zoom range series. Jim reviewed the March line-up, explaining the many high-magnification models available for precision shooters.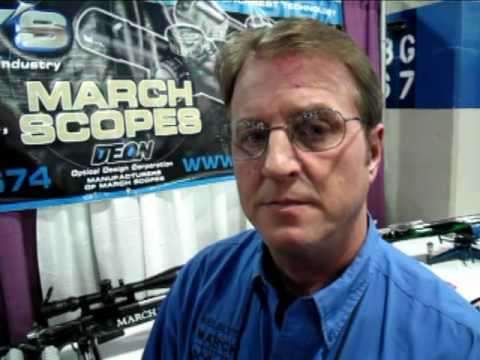 Jim also showed us the stainless Grizzly II action and the new Atlas series of stainless actions. The Atlas actions are designed for varminters, tactical shooters, and long-range shooters who want an affordable stainless action with a Remington 700 action footprint. The Atlas actions should be a simple drop-in installation for stocks inletted for Rem 700s. At the close of the interview, we asked Jim about the future of benchrest competition. Jim believes that we will see more cross-over of short-range shooters into the long-range disciplines (and vice-versa), along with growth in the F-Class and tactical disciplines.
Similar Posts:
Share the post "SHOT Show Report: Kelbly's Offers New Products for 2010, including 80-power Zoom Scope"