January 30th, 2010
SHOT Show Report: New RCBS Bullet Feeder & Chronograph
Kent Sakamoto of RCBS showed us the new RCBS products for 2010. The big news for reloaders is an automated, .22-caliber bullet feeder for the RCBS Pro 2000 progressive press. This caliber-specific bullet feeder cycles 22-cal bullets directly into a modified seating die. Now you can load all kinds of 22-cal cartridges without even handling the bullets. The bullet feeder is a simple, bolt-on upgrade to the Pro 2000 press, and it can also be adapted to Hornady's Lock-N-Load progressive, according to Sakamoto. The new bullet feeder utilizes the RCBS electric collator/hopper, which feeds the bullets from an elevated bin. The 22-cal bullet feeder will be available in March 2010, with a 30-cal version to be released later in the year.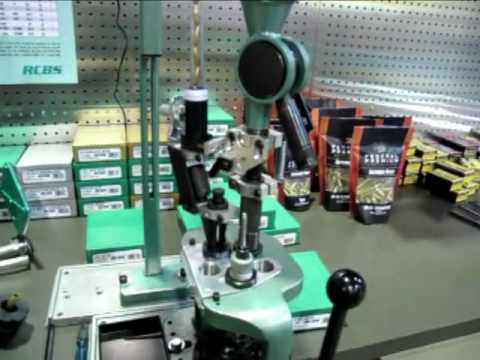 At Media Day, RCBS also showcased its long-awaited new AmmoMaster chronograph. Designed as an affordable, entry-level chrono, the new RCBS AmmoMaster is completely self-contained. All components, including cables and sky-screen, pack up into the central chrono "body" which is shaped like a giant cartridge case. The detachable control/display assembly (shaped like a bullet) can be positioned on your shooting bench for ease of access. The AmmoMaster chrono retails for about $125.00, making it one of the most affordable chronos on the market. It is available right now at leading vendors, including MidwayUSA (product #911572).
Similar Posts:
Share the post "SHOT Show Report: New RCBS Bullet Feeder & Chronograph"
Tags: bullet, Chronograph, Pro 2000, Progressive, RCBS, Reloading