March 29th, 2010
2010 F-Open Class Champion Derek Rodgers, a young shooter from Albuquerque, New Mexico, proved that youth and skill can triumph over age and experience. Though Derek had placed third in F-TR class at the 2009 Nationals, this was Derek's very first year competing in Open Class at the Nationals, and his NRA Classification was "Sharpshooter". Derek's win was a great victory for an unheralded newcomer. On the last day of the competition, Derek put together three superb 1000-yard matches, out-shooting High Masters and past National Champions to secure the Open Class title. Derek finished with 1330-57X, five points ahead of runner-up Ken Dickerman (1325-57X).
Ironically, Derek only decided to shoot in Open Class only because his favorite F-TR rifle is currently being upgraded by his gunsmith, and so the rifle wasn't ready for the Nationals. (We suspect some F-Open competitors wish that gunsmith had finished Derek's F-TR rifle a bit sooner).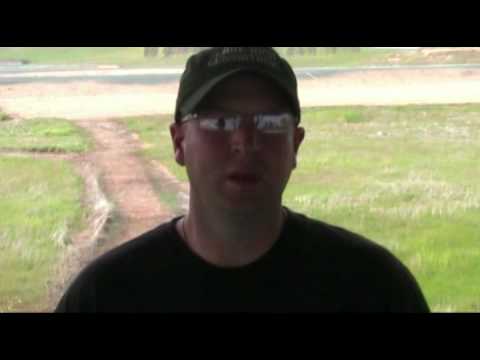 Derek brought a 300 WSM to the Nationals, a "big boomer" by F-Class standards. A fan of "heavy bullets", Derek loads his 300 WSM with high-BC, 210gr JLK bullets. In Derek's home state of New Mexico, strong winds are the norm. Shooting in those conditions has shown Derek the effectiveness of heavy 30-caliber bullets at long range. Derek's load certainly shot well in the windy conditions during the final 1000-yard match on Sunday. While some of Derek's success can be attributed to his wind-bucking WSM (built by Score High Gunsmithing in New Mexico), he also is a careful reloader who "goes the whole nine yards" to produce the best possible ammo. Derek anneals, weight-sorts and neck-turns his Remington brass. He weight-sorts and ogive-sorts his 210gr JLK bullets, and he points up the tips for uniformity. He spared no effort in loading for the Nationals because he knew "those other guys are really, really good."
The Sierra Cup (at left) is presented each year to the U.S. F-Open Class National Champion. This year Derek Rodgers' name will be placed on the trophy alongside other F-Open Champions including John Brewer (2004), Jeff Cochran (2005), Eric Bair (2006), Robert Bock (2007), and Charles Ballard (2008, 2009).