February 5th, 2011
Bryan Litz, Ballistician for Berger Bullets, has created a fantastic 10-minute video that covers the recent Berger Southwest Long-Range Nationals from start to finish. Bryan, Overall Match Winner in the Sling Division, had his still and video cameras rolling for each phase of the popular event, including the Tuesday training seminars, Wednesday's mid-range fun match, three days of scored long-range shooting (Friday – Sunday), and the awards ceremonies. The 2011 SW Nationals was a big success, drawing 161 shooters from 12 states and even Canada. There were clear skies with 70° highs every day — welcome weather for the Snow-birds who came down to compete.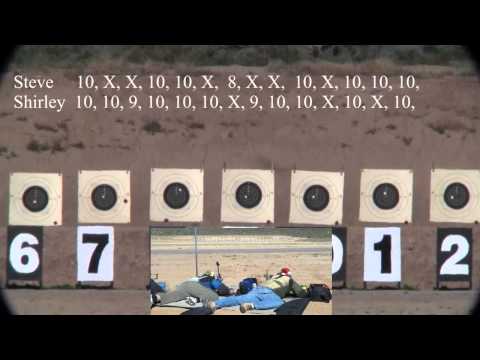 Video Offers "Shooter's Eye View"
During the score matches, Bryan had multiple cameras running, with one focused through a spotting scope. This allows you to see shooting, shot-marking, and target movement in real time. If you watch carefully, you can also see bullet trace on many shots. Bryan delivers a "Shooter's Eye View" of the match with these multiple camera sequences.
Bryan covers all the top shooters and winning teams. One of the highlights of Bryan's video is an interview with Danny Biggs, who set a new National F-Open class record, shooting 200-15X, not once but twice (the second time in really tough conditions). Danny was shooting a 7mm RSAUM with Berger 180gr Hybrid bullets, using a Barnard action and straight-contour 1:9″-twist Krieger barrel. He was loading Hodgdon H4350 in Remington Brass. NF Benchrest scope of course.
Berger Awards 30,000 Bullets and $2,000+ in Cash Prizes
Berger did a great job sponsoring this event. Overall, Berger awarded 30,000 bullets to shooters, along with over $2,000 in cash prizes. Engineer Hat's off to Bryan for making such a fine video. And remember… Bryan managed to shoot this video, while finishing First Overall in Sling Division. Impressive.