February 10th, 2011
Vortex Optics — New Products for 2011
Vortex is an up-and-coming optics maker that has made great strides in recent years. Vortex scopes, spotting scopes and binoculars offer excellent value for the dollar. This year, at SHOT Show, Vortex unveiled its new Viper HS series of scopes, with 30mm tubes and 4X magnification ranges. We checked out the new Viper HS 4-16×50 LR (Long Range) model. This features an exposed elevation turret with Vortex's CRS zero stop. The 4-16 Viper HS offers 75 MOA of elevation travel (24 MOA per revolution).
Order Custom-Calibrated Elevation Turret Caps
One thing we really liked about the new Viper series of scopes is the availability of custom elevation turret caps. For about $100.00, Vortex will craft a elevation turret cap with range markings custom-calibrated for the ballistics of your load in your rifle. As explained in the video below, you can go to the Vortex website, and input your MV, bullet BC, altitude and other load variables. Then, using the custom elevation turret cap, simply dial in your target range, and hold 'dead on'.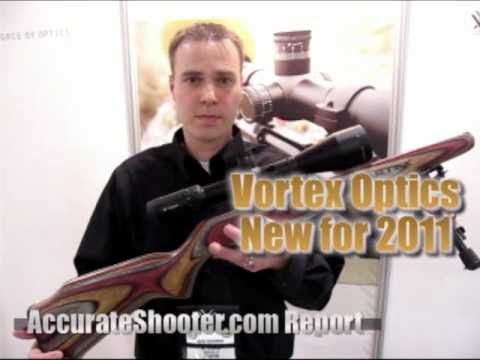 New Viper HS 1-4x24mm with TMCQ Reticle
The growing popularity of multi-gun competition has spurred interest in compact, zoom scopes that can switch from a wide-angle, zero magnification view for close work to four- or five-power magnification for long-range stages. Vortex Optics has developed a new scope that should work well for 3-Gun carbines, as well as dangerous game hunting rifles. The Viper HS 1-4x24mm with the TMCQ (Tactical Milling Close Quarter) reticle features a 30mm main tube and built-in illumination with 10 intensity levels with an off position between each setting.
Similar Posts:
Share the post "Vortex Optics — New Products for 2011"
Tags: BDC, Custom Turret, Elevation, Multi-Gun, Scope, Viper HS, Vortex