January 31st, 2013
Kelly Bachand Reviews Forster Co-Ax Reloading Press
This review first appeared in 2011. Having graduated from college in 2012, Kelly is now working full-time, and he has started a business, KellysGunSales.com.
Most readers recognize Kelly Bachand from the popular Top Shot TV show on the History Channel. Kelly didn't win the $100K grand prize, but he was a talented competitor who became an audience favorite with his accurate rifle shooting and "toughness under fire" (Kelly survived more one-on-one challenges than any other competitor). Last spring, with the cooperation of Forster Products, AccurateShooter.com supplied Kelly with a new Forster Co-Ax® Press. As a college student, Kelly had previously reloaded with a low-priced Lee Challenger Press — all that his "starving student" budget would allow. (In fairness to the Lee — it did produce some match-winning ammo for Kelly over the years.)
Kelly has been very impressed with the Co-Ax Press and he put together a video review for us. Kelly likes the ease with which dies can be swapped in and out of the press, and he also enjoys the added mechanical leverage provided by the coaxial design. Kelly favors the Forster's straight-drop, spent primer-capture system. On other, conventional presses, spent primers and debris can collect around the base of the press, or end up on the floor, on your carpet, or on your bench-top.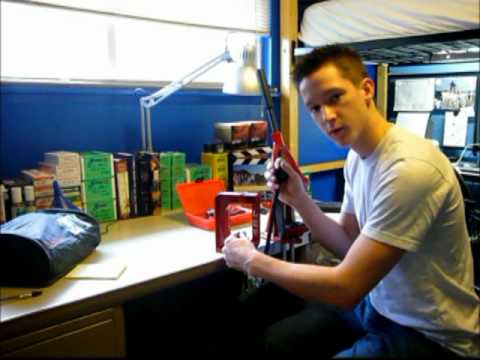 Forster Co-Ax Press Design Features

The Co-Ax's spring-loaded shell holder jaws float with the die, allowing cases to correctly center in the die. Dies snap easily in and out of the jaws so you can change dies in a couple of seconds. Many folks believe this improves die alignment, producing loaded rounds with less runout.
We really like the primer recovery system on the Co-Ax. Spent primers pass straight down into a cup — no more primers and carbon on the carpet. Every other single-stage press we've tried will toss a spent primer now and then, and primer residue builds up around the ram shaft.
PROS: Floating jaw shell-holder design delivers low run-out ammo. Smooth stroke without wobble. Best spent-primer collection system.
CONS: Clearance can be an issue with some very tall dies (but you can mill the yoke to accommodate). Dies must be equipped with cross-bolt style lock rings. We recommend the Hornady lock-rings.
If you need power for case sizing, the Co-Ax delivers three times the mechanical advantage of some conventional presses. The Co-Ax's dual parallel guide-rod design also ensures that the ram movement is straight and smooth throughout the power stroke. With a center-mounted handle, the Co-Ax works equally well for both right- and left-handed reloaders.
The Co-Ax press accepts any standard 7/8″x14 threaded reloading die. You will need to use cross-bolt-style lock-rings on your dies. We recommend the Hornady rings. These are steel and have a hex-head cross-bolt. The Co-Ax requires no expensive shell-holders. The standard "S" jaw set supplied with the press fits nearly all common calibers except: 378 Wby., 45-70, 256 Win. Mag., 44 S&W, 416 Rigby, 416 Rem., 45-90 and 348 Win. These calibers can be used if you purchase the optional "LS" Jaws.

Similar Posts:
Share the post "Kelly Bachand Reviews Forster Co-Ax Reloading Press"
Tags: Forster Co-Ax, kelly bachand