August 18th, 2008
Army Specialist K. C. Eusebio of the United States Army Marksmanship Unit (USAMU) edged out B. J. Norris to win his second Steel Challenge World Speed Shooting title in Piru, California. Eusebio finished with a record time of 79.16. K.C. first won the Steel Challenge while still in High School — an amazing performance for such a young shooter. K.C. has set speed-records for many of the Steel Challenge's stages, including "Smoke & Hope" shown in the video. Eusebio's win is the third time an Army Marksmanship Unit member has taken the title in the past four years. Staff Sergeant Max Michel took the title in 2005 and 2007. Below is exclusive video taken by AccurateShooter.com at the Steel Challenge on August 16.
CLICK HERE or on screen to WATCH VIDEO.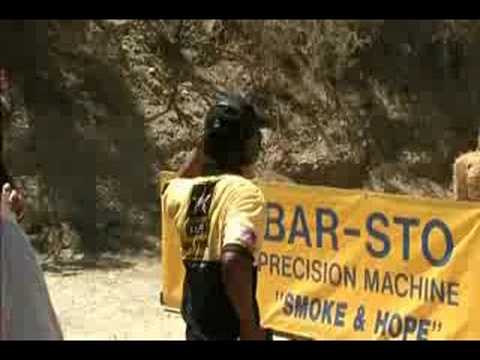 In the women's division Kay Clark-Miculek took her seventh Women's Steel Challenge title with a time of 105.85. Miculek now has twice as many titles as any other female shooter. In the Limited Category, Phil Strader of the US Shooting Academy's 93.49 time was good enough to defeat 2006 World Champion JJ Racaza by just over 9 tenths of a second.