April 28th, 2009
Taking first-place overall, Robert Hoppe was the big winner at the NBRSA 600-yard Nationals (Sloughhouse 600). Robert was shooting a 6mm Dasher (6BR Improved) with (reportedly) 103gr Spencer bullets. Robert had previously set a 600-yard small group record with his Dasher and 105 A-Max bullets. In the Interview below (from the 2008 Sloughhouse 600), Robert Hoppe gives tips on loading for the 6 Dasher: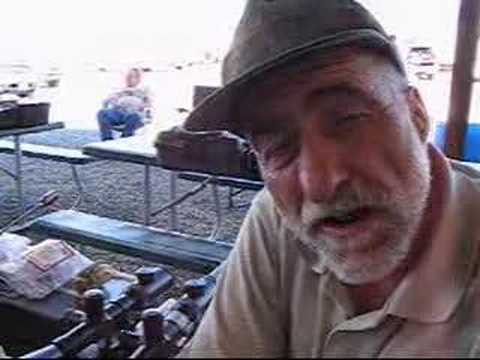 Second Place overall went to Billy Copelin (also shooting Dashers in both Light Gun and Heavy Gun), and Third Place went to past 600-yard Champion Don Nielson (also shooting a Dasher in LG and HG). Don also won 12-Target Score. East-coaster Eric Stanton took 4th shooting a borrowed 6BR while Tommy Johnson rounded out the top five.

Overall Winner Robert Hoppe (holding plaque), with Match Director Craig St. Claire (far left).
CLICK HERE to download Complete NBRSA 600-Yard Nat'ls Match Results (MS Word file).
Though conditions were very difficult (shifty variable winds with horrendous mirage), Forum member Roger Amos set a new 3-target, Light Gun score record of 145-4X. Last Year's NBRSA 600-yard Champ Jerry Tierney told us: "Conditions were really tough. Big changes in velocity and direction. You might get a good group but chances are it would not be centered. Mirage was bad. Many guys had trouble staying on paper when the conditions were the worst." Despite the conditions, Tierney recorded the best Light Gun 6-Target Group Agg, an impressive 2.589″.
Lynn Dragoman provided this report, on Benchrest Central: "The shooting was very tough. We had plenty of switchy winds and so much mirage my 12-42 Nightforce never got off of 12 power. Lou Murdica lent Eric Stanton a 6BR [belonging to Connie, Lou's wife] with ammo Lou loaded up. Eric won a box of plaques and shot the smallest LG group of the match [1.407″, (48-0X). Barry Bluhm, shooting a 6-6.5×47 had the Heavy Gun 10-shot small group, 2.513″, (92-1X)]. Turnout was 50 shooters despite the depression we are seeing in the economy and a good time was had by all in attendance. It doesn't get much better than three days shooting on the bench next to Lou Murdica, Don Nielson, and Eric Stanton. The new March 36-55X is a very nice scope. A big thank you goes out to our new Match Director Craig St. Claire. He ran it like a true pro. The scoring was done by Gary Childs and Jim O'Connell and the results were done before anybody had finished eating lunch."
Many leading manufacturers supported the NBRSA Nationals/Sloughhouse 600 as sponsors. Bill Shehane of D&B Supply donated a very nice Tracker stock. Mac Tilton of MT Guns donated a $250.00 discount certificate for new Barnard action. Mac specified that this should go to one of the "non-podium" shooters, and Rick Duncan was the lucky fellow receiving the certificate. Other participating sponsors included: Bartlein Barrels, Cabela's, Dewey Products, Forster Products, Russ Haydon, Krieger Barrels, Lee Reloading, MidwayUSA, Shilen Rifles, and Redding Reloading.
Photos by Barry Bluhm. Results provided by Jim O'Connell.