April 8th, 2009
Shooting USA Features 3-Gun Match at Fort Benning
On today's broadcast of ShootingUSA television, Jim Scoutten and his crew feature a recent Three-gun Challenge Match at Fort Benning, Georgia. In this event, hosted by the U.S. Army Marksmanship Unit (USAMU), both Army and civilian shooters compete with pistol, rifle, and shotguns in a multi-stage, timed course of fire. ShootingUSA airs Wednesdays on the Outdoor Channel at the following times:
* Eastern Time: 4:30 PM, 8:30 PM, 12:00 Midnight
* Central Time: 3:30 PM, 7:30 PM, 11:00 PM
* Mountain Time: 2:30 PM, 6:30 PM, 10:00 PM
* Pacific Time: 1:30 PM, 5:30 PM, 9:00 PM
Stages Re-Create Medal of Honor Scenarios
Each of the eight stages in the three-gun match recalls the actions of a Medal of Honor recipient with portions of each citation read to the competitors as the explanation of the course of fire. This annual three-gun match helps advance the Army Marksmanship Unit's mission of improving skills throughout the Army, according to AMU Commander, LTC Frank Muggio, "This type of competition is exactly what we want our soldiers to be able to do in the field. They identify a target, they choose the right weapon system to engage the target, and they take out the target, and not anything around the target."
The video clip below (not from ShootingUSA) shows Erik Lund's Stage 5-winning performance at the 2008 Fort Benning 3-Gun Challenge.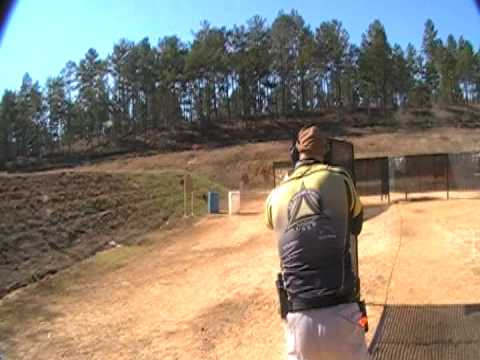 Similar Posts:
Tags: AR15, Ft. Benning, Multi-Gun, USAMU