March 5th, 2010
NEW Prototype SEB NEO Rest Unveiled
We recently received a prototype version of the new NEO rest from SebCoax.com. Designer Sebastian Lambang's new rest is an engineering tour de force. Your editor can say, straight up, that this is the best joystick rest I've ever used. It is butter smooth in horizontal travel. The NEO does not suffer from the jerky, or jumpy vertical movement of some other joystick rests. With a 17-lb gun on the rest, yes there is more resistance in the vertical plane than in the horizontal, but you can still move the crosshairs up smoothly in one motion. You don't have to "over-shoot" and then come back down on your aiming point. If you've used other coaxial rests, you know that the upward movement can be jerky if the resistance is set so that the joystick does not droop when you let go. Not so with the NEO. Seb Lambang has fitted the NEO rest with expensive, new German-made internal bearings. These new teflon liner bearings, plus two additional internal leaf springs for weight support, make all the difference.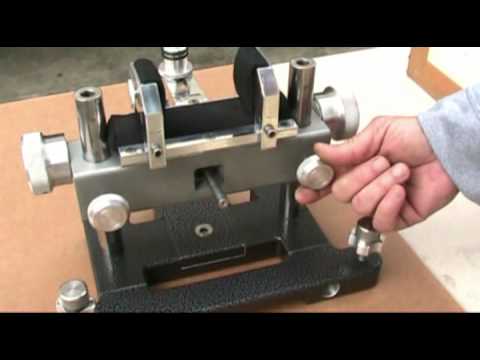 The upward movement is MUCH smoother than before. In this Editor's opinion, the NEO is smoother (with less jumpiness) than the Farley. It is also easier to set joystick tension on the NEO rest that on the previous (Gen 1) SEB rest. Before you had to fiddle with hex-head bolts. On the NEO rest, SEB has provided two, large diameter knobs. It is easy to set the tension so the joystick doesn't fall on release, but travel is still smooth and positive in all planes.
Make no mistake, joystick movement on this rest is smooth and fluid, even in straight upwards motion with a 17-pound rifle. No more of the jumpiness or stacking found on lesser designs. SEB has got a winner here. Just as a top-fuel dragster lives or dies on quarter-mile speed, a coaxial rest is judged, foremost, on its ability to move quickly and precisely to point of aim in ONE MOVEMENT. Here the NEO rest shines. It may be the smoothest-functioning coaxial rest ever produced. And it also has the unique feature of adjustable front bag width (see videos). That's great if you shoot both wide benchrest rigs and narrow-forearm rifles. Also, when disassembled, the NEO rest packs up very compactly — a big plus when traveling. If you didn't like joystick rests before, the SEB NEO may make you a believer.
Triple-Sandbag Configuration and Vibration Damping
How about shooting performance? The rest is rock-solid, with no wobbly movement, so no mechanical flaws should prevent match-winning performance. However, the NEO rest has three separate, fairly thin bags. This configuration has been used with success in rimfire benchrest. Some European centerfire rests use a similar tri-bag arrangement. However, we are concerned that the smaller, separate bags could behave differently than a conventional front bag. There may be differences in vibration damping and how the bag responds under recoil. We have NOT done enough testing to judge how the NEO's tri-bag system performs compared to a conventional one-piece sandbag. But it's something to consider.
NEO Rest Offers More JoyStick Travel
The SEB NEO rest has a very wide range of travel. Running the joystick to max travel, we placed shots 43 MOA apart vertically and 48 MOA apart horizontally. That's four FEET of horizontal travel at 100 yards using JUST the joystick! If you need more than 43 MOA of vertical travel, the whole coaxial carriage moves up and down on two large columns, delivering a bag height range from about 5″ to 10″ above the bench top. That's a HUGE amount of travel. The gross height is adjusted with two large knobs, one on either side of the carriage. This movement is very smooth — as if the carriage is on ball bearings.
The geometry of the NEO Rest is somewhat unique. Although the NEO can be positioned in either direction (i.e. it is reversible), it is designed to have the long, narrow foot out front, on the target side. This opens up the entire area behind the rest, so there is no interference with the joystick's movement. "But what about my vertical speedscrew?" you may be saying. Well, with the SEB NEO's 43 MOA of vertical travel, you really don't need a vertical adjustment screw on the shooter's side of the rest when aiming your rifle. There ARE two adjustment screws on the left and right rear sides, but these are intended to level the rest only.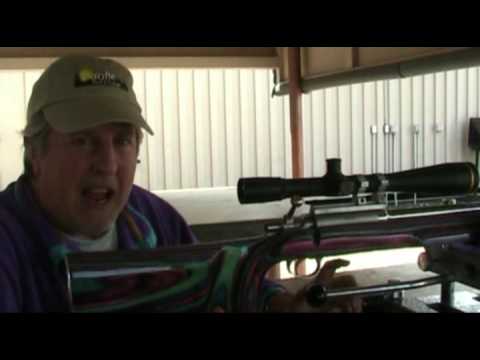 Overall, we were very impressed with the quality, range of adjustment, and versatility of the NEO rest. It has more than enough joystick travel to shoot an ARA rimfire target with 25 bulls. It has enough gross vertical adjustment for 1000-yard F-Class use, even if the target is way up on a hill or down in a valley. And, the rest is relatively easy to transport, with a fairly small footprint and a convenient carry handle built into the "back" side of the rest.
NEO Rest Specifications
- Reversible base configuration: Rest can work with joystick tension adjustments in front, or in rear, per user preference. If you want the single long foot on the "driver's side", that is also possible.
– Size assembled: Approx. 13″ wide x 14″ long, 8.6″ tall.
– MOA adjustment (joystick travel): At least 40 MOA (vertical) x 44 MOA (horizontal).
– Net weight: approx 9.3 kgs (20.5 lbs), with standard aluminum base and filled bags.
– Bag Width Range: 200 mm (approx 7.874″) between posts CTC. This allows a max forearm width of about 4″ (four inches).
– Height Range (from bottom of base to top of horizontal bag): Approx. 5″ (lowest) to 10″ (highest).
– Sand Bag Thickness: Approx. 3/4″ for the "horizontal' bag, approx. 1/2″ for the side chambers.
– Construction: All metal throughout. Base is cast aluminum. Rack gear posts and pinion are stainless steel (SUS 420J). Coaxial body, rest top, forearm stopper are made from aircraft grade alumunium.
– Price: Not yet set, but probably $675.00 to $750.00 US.
NEO Rest vs. SEB Standard Rest
Seb told us: "The NEO rest is NOT designed to replace the regular SEB rest. It's only for people that need faster elevation adjustment, and a rest that can be set to a lower level overall or a higher lever overall. On the production NEO rests, the 'body' of the coaxial unit will be polished, just like the current (Gen 1) rest. The current (Gen 1) rest will remain in production, so don't worry if you prefer that design. I haven't established the final price of the NEO rest yet, but I think it will be about $675.00 to $750.00. Yes, it will be somewhat more expensive because of the extended travel capability and increased cost of materials."
Further Enhancements for Production Model?
The NEO we received is a prototype model and SEB tells us that he may add or modify some features in the final production version. What changes would we like? First, we think a front rest in the $700+ price range should have a built-in level. Obviously you can buy a bubble level and stick it on, but Seb should include one. Second, we'd like to see some variations on the side sand chambers. They tend to plump up in the middle. For stocks with side flats, such as the McMillan Edge, the thickest part of the side bags is a bit too high. Also the side tension knobs push the bags inwards well above the contact point with the stock. We also would like to have more forearm stop travel. As made, the front forearm stop has a good range of adjustment. But an optional, longer extension for the stop would better suit rifles that balance/shoot best with the rest placed well back on the forearm.
Included Cord Helps Rest Alignment
Included with the NEO rest is a nylon cord with metal ends. Just pop one end of the cord in a hole in the middle of the forearm stop and draw the cord back in line with the target, running the cord through the ears of your rear sandbag. This allows you to center and align the rear bag optimally. The cord is a thoughtful accessory provided by SEB.
Review Disclosure: SebCoax.com provided the Seb NEO rest for testing and evaluation. The rest's manufacturer is not currently advertising with AccurateShooter.com.

Similar Posts:
Tags: Benchrest, Coaxial, Indonesia, Joystick, SEB, Seb Coax