November 7th, 2010
The Ruger Rimfire Challenge World Championship concludes today at the Hogue Range near Morro Bay, California. This is a unique, family-friendly two-gun shooting event using rimfire handguns and rifles. Competitors engage steel targets in a variety of scenarios. There are separate classes for revolvers and self-loading pistols. A wide variety of rimfire rifles are allowed, including semi-auto, bolt action, pump action and lever-action. As you'd expect, Ruger 10/22s are the most popular choice in rifles.
More Bang for Your Buck
For competitors, the Rimfire Challenge offers the same rapid-fire action as a centerfire Multi-gun match, but at a fraction of the cost. No big-buck custom firearms are needed, and with the low cost of rimfire ammo, a shooter can send hundreds of rounds downrange without breaking the bank. With the current tight economy, we predict increased interest in rimfire action shooting. Jim Shepherd of the Shooting Wire agrees: "With center-fire ammunition prices being what they are, .22 caliber rimfire makes a lot of sense. One indicator of the popularity of .22 caliber shooting is the Ruger Rimfire Challenge, a series of regional matches held across the United States. The finals are this weekend in California, and the [event has grown] far beyond expectations."
At the Ruger Rimfire Challenge Championship, shooters compete in Junior and Senior Divisions, with separate awards for male and female shooters. It's a great way for people of any age or skill level to get started in competitive shooting. In the video below, Ruger's Ken Jorgensen explains how the Ruger Rimfire Challenge works, and why it has become so popular.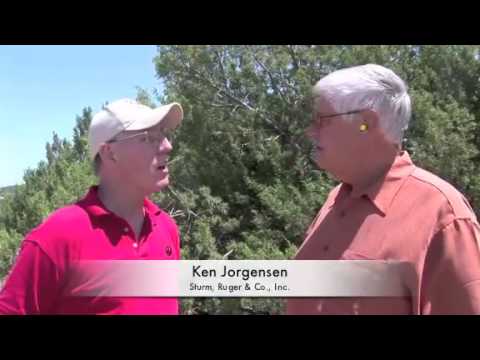 Superlative Range on the Pacific Coast
The Ruger Rimfire Challenge World Championship is held at the Hogue Action Pistol Range, a modern facility with 10 shooting bays. The Hogue Range is part of a large complex of shooting sports facilities operating on a former U.S. Army test range located between San Luis Obispo and Morro Bay, California. The public rifle range, located just North of the Hogue Action Pistol Range, is shown below. The San Luis Obispo region is a great weekend destination for the whole family, with beaches and tourist attractions nearby. Visit the San Luis Obispo Sportsmen's Assocation (SLOSA) website to learn more about the Hogue Range and adjacent shooting facilities.
Share the post "Ruger Rimfire Challenge National Championship"