November 10th, 2010
Barrett Firearms Mfg. has introduced its latest rifle, the MRAD, chambered in .338 Lapua Magnum (and optionally 300 Win Mag and 7.62×51 NATO). The MRAD's modular design includes a user-changeable barrel system, removable by unscrewing two bolts with a standard Torx wrench. The bolt-head also changes out easily for caliber conversions. The video below shows how quickly the barrel can be swapped out by the operator. The MRAD ships with a folding stock which Barret claims "locks in as solid as a fixed-stock rifle". When folded, the stock latches around the bolt (smart feature). The MRAD ships with a 24.5″ fluted barrel and Multi-Role Brown finish. No price has yet been announced.
The MRAD, slated for release in mid-2011, also features a new, easily-accessed trigger module, claimed to be "match-grade [and] drop-fire-proof". Integrated into the MRAD's 7000 series aluminum upper receiver is a 21.75″ M1913 rail with 30 MOA taper. Configurable side and bottom rails can also hold a number of accessories. Watch the video below to see the MRAD's features and operation.
NEW .338 LM Barrett MRAD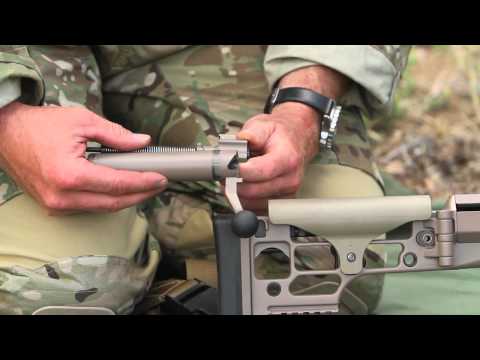 Share the post "NEW .338 Lapua Magnum MRAD Rifle from Barrett"