September 17th, 2011
Bushnell Fusion 1600 ARC RangeFinder Binoculars
Bushnell recently released its new Fusion 1600 ARC range-finding binoculars. With a "low street price" under $799.00, Bushnell's 1600 ARC binoculars are less than one third the price of Leica Geovids (10×42, $2399.00) or Zeiss Victory RF Binoculars (10×45, $2,799.00).
That huge price advantage makes the Fusion very tempting — but can Bushnell's 1600 ARC binos perform as advertised?
Forum Member Reviews Fusion 1600 ARC
Forum Member Stan (aka BigBamBoom) acquired the Fusion 1600 ARC RF binoculars and has posted a video review. Stan was favorably impressed with the quality of the glass and the exterior ruggedness of the unit. He was able to range very large objects (water-tower, trees) beyond 1200 yards. He also praised the speed of the unit, saying it ranged faster than his Leica CRF 1200. Consider however, that the very small CRF1200 is harder to aim precisely, simply because it is so small and light and held in a vertical orientation. Most people can aim the larger, heavier LRFs with more steadiness using a normal two-handed horizontal grip. In the real world, if you can hold the LRF more steady, you can get a true range on a small object more quickly.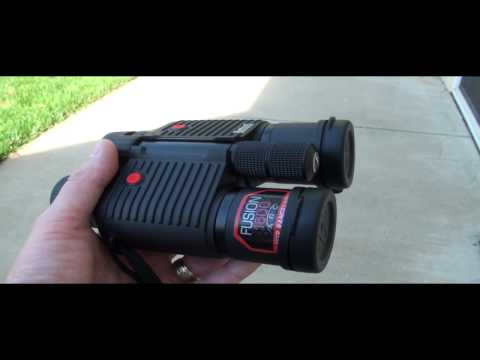 Don't Expect to Range a WhiteTail at 1600 yards
We also caution that, in our Laser rangefinder comparison tests, we learned that there is BIG difference between ranging a water tower, and ranging a deer-sized animal. We found that some units that could range a water tower at 1300+ yards could NOT reliably range an actual deer (stuffed by taxidermist) at 700 yards. Note that Bushnell lists three different effective ranging distances for the Fusion 1600, and Bushnell claims only 500-yard effectiveness on deer-sized objects. This is fairly consistent with our LRF comparison tests:
Bushnell Fusion 1600 ARC Ranging Ability (Factory Specs)
Reflective Ranging Performance: 1600 yards
Tree Ranging Performance: 1000 yards
Deer Ranging Performance: 500 yards
It can be fun to range buildings at a mile, but for the hunter, that may not have much practical utility. You want to be able to range deer-sized game at all practical distances. For the tactical shooter, you need a narrowly focused beam (with minimal beam divergence) that can range a gong or metallic silhouette reliably at 1000 yards. If an LRF can't do that, it may not be all that useful, even if it the sales price is attractive.


Fusion 1600 ARC Features
The 10×42 roof prism binoculars feature built-in battery life indicator, twist-up eye pieces, and multi-coated optics with RainGuard. The Fusion 1600 is fully waterproof and submersible, meeting IPX7 "waterproof" specification. As Stan observed, the Fusion 1600 has good glass, and the red readouts are easy to see. Bushnell employs Vivid Display Technology™ (with four display brightness settings) to enhance display readability in all lighting conditions.
The built-in laser rangefinder features ARC (Angle Range Compensating) technology, which calculates the angle to the target (-90 to +90 degrees). ARC also and gives the hold-over range for the rifle shooter, and true horizontal distance for bow hunters. We like the fact that you can choose between Inches and MOA for holdover. There is a brush mode for measuring distances in heavy cover and a bullseye mode for ranging in open areas. The brush mode can filter out false returns from closer objects. This IS a useful feature that actually does work.
The Fusion 1600 ARC laser rangefinder binoculars come with battery, neck-strap, and carrying case. MSRP is $899.00. It pays to shop around as we've seen advertised prices from $789.00 to $899.00. For more info, visit www.bushnell.com or call 800-423-3537 for consumer inquiries.

Similar Posts:
Tags: Angle Compensation, ARC, Binoculars, Bushnell, Fusion 1600, LRF, Rangefinder