October 11th, 2021
At the request of our readers, we provide select "Deals of the Week". Every Sunday afternoon or Monday morning we offer our Best Bargain selections. Here are some of the best deals on firearms, hardware, reloading components, optics, and shooting accessories. Be aware that sale prices are subject to change, and once clearance inventory is sold, it's gone for good. You snooze you lose.
1. Sportsmans's Warehouse — CZ 612 Pump Shotgun, $279.99

⏺ CZ quality at a super-low price — solid choice for home defense shotgun
If you're looking for a simple but effective home defense gun, check out the CZ 612 Home Defense Black 12ga Pump Shotgun. The 612 Home Defense is a no-nonsense 12 gauge fitted with an 18.5″ cylinder-bore barrel and black synthetic stock. The design features and build quality compare very well to other pump shotguns costing twice as much. If you favor a self-loading shotgun, CZ also offers the CZ 712 Utility G2 Semi-Auto Shotgun.
2. Midsouth — RCBS ChargeMaster Lite Scale/Dispenser, $234.99

⏺ Best price on RCBS ChargeMaster Lite, plus New Link Model
Dropping powder charges fast a reliable usually comes either at an extreme cost or complexity. Keep it simple, cost effective and accurate with the RCBS Chargemaster Lite. Simply punch in your powder charge and it'll do the rest, all with an accuracy of .10 of a grain. If you're looking to control your powder dispensing with a handy mobile App, look at the RCBS Chargemaster Link with added functionality.
3. MidwayUSA — L.E. Wilson Micrometer Case Trimmer, $125.85

⏺ Superb quality, complete unit with micrometer and stand
The L.E. Wilson Micrometer Trimmer unit is excellent. It trims very precisely with the use of Wilson case holders combined with a micrometer-type stop for length control. With the micrometer you can fine-tune trim length in .001″ increments. As sold complete with micrometer, quick clamp, metal stand, and carry case, this Wilson Stainless Trimmer Kit is $125.85 at MidwayUSA. That's a very good price — the very same Trimmer Kit is currently $154.95 at Creedmoor Sports. The trimmer can also perform inside neck and primer pocket reaming with optional attachments. NOTE: These kits do NOT include cartridge-specific case holders, sold separately.
4. EuroOptic — Steiner Scope Ring Up Promotion — Free Rings

⏺ Excellent hunting/varminting scopes — get free rings and scope cover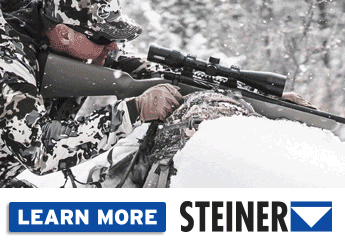 Need a quality hunting scope? With this deal you get a great scope + FREE rings. Now through December 31, 2021, you can take advantage of the Steiner Ring Up Promotion. Purchase a new Steiner Predator 4 Scope and receive a free set of H-Series rings from Steiner; or purchase a T5XI or M-Series scope and receive a set of Steiner T-Series rings or cantilever mount. Additionally, Steiner will include a free neoprene scope cover. These scope have excellent sharpness and low light performance.
5. Amazon — BOG FieldPod Rifle Support SALE $69.98

⏺ Amazing deal — $75 off normal price of very functional tripod rest
Whether hunting or shooting in a match there's times where standing is required and shooting off a bipod is a must. One our favorites is the BOG FieldPod. It features a dual frame construction and upper frame length adjustment for use with any size rifle including detachable magazine rifles and crossbows making this ambidextrous rest great for ground blinds, predator/turkey hunting, and long-range shooting.
6. Graf's — Leupold McKenzie 10x42mm Binoculars, $149.99

⏺ Save $34 off good compact binoculars with full 10-power magnification
If you're heading out hunting this fall, then you'll definitely need a good set of binoculars. Right now save big on the Leupold 10x42mm BX-1 McKenzie Binoculars. These deliver very good low-light performance with Leupold's Twilight Light Management System. These 10x42mm binoculars have a compact format for easy carry. They are waterproof and built to handle harsh conditions. These McKensie binoculars ship with a shoulder strap, binocular case, lens covers, and lens cloth. For all-day field carry, we recommend adding Leupold's Go Afield Binocular Chest Harness (upper right in photo), $43.58 on Amazon.
7. KYGunco — ANDERSON AM-15 Stripped Lower Receiver, $38.99

⏺ Absolutely killer deal on AR15 lower from reputable manufacturer
There's still a huge demand for AR-style firearms and it all starts with the lower receiver. If you're considering building one, we found these ANDERSON AM-15 No Logo Lower Receivers for only $38.99. You could easily pay two or three times as much for an equivalent AR lower. We have no idea how long this deal will last so grab one or more now and then you can rest easy knowing that you have the most critical part of your next rifle.
8. Amazon — Caldwell Stable Table Lite, $115.03

⏺ Very good price on collapsible ambidextrous shooting bench
Every serious shooter should have some kind of portable shooting bench — for practicing at undeveloped ranges, or for varmint safaris. The Caldwell Stable Table is a secure and very affordable platform for practice, sight-in sessions, and varmint field trips. This table is fully collapsible for easy transport. Set-up is fast and simple with a right/left movable seat and height adjustments for maximum shooting comfort. This cleverly-designed ambidextrous shooting table works for both right-handed or left-handed shooters. This is an Amazon #1 Best Seller for shooting benches.
9. Amazon — Hornady Reusable Dehumidifier Bag, $14.99

⏺ Moisture-absorbing reusable desiccant bag protects your investment
Keeping moisture low in your gun safe is critical in the prevention of rust and corrosion. One of the easiest ways to do this is with the Hornady Reusable Dehumidifier Bag. These desiccant packets are ready for use. With no batteries or electrical equipment required, it easily recharges in a warm oven for infinite reuse making leaving no excuses to protect your guns.