February 4th, 2008
Tierney Sets High Power Records
Ace California shooter Jerry Tierney added a few more feathers to his cap this past weekend. Shooting a "spacegun" chambered in 6mmAR by Robert Whitley, Jerry, a retired computer engineer, set no less than six (6) new records in a reduced High Power course match on Saturday, February 2nd. Note, while distances are shorter, the targets are reduced proportionately in size so the course of fire remains very challenging. Half in jest, Jerry reported: "High Power is more fun than full-bore!"
Based on his recorded scores, it's believed Jerry set all these records on Saturday: 3 Grand Senior records; 1 Senior record; 1 Civilian Record; and 1 Open Record (best regardless of age group or military/civilian status).
The 6mmAR is a wildcat based on the 6.5 Grendel case necked down to 6mm. It provides performance very similar to that of the 6mmBR Norma with a cartridge that will mag-feed in an AR style rifle. Robert Whitley has done extensive development for this round, developing optimal loads he's posted on www.6mmAR.com. Robert also sells "space gun" accessories, and complete 6mmAR upper assemblies.
Jerry has enjoyed considerable success in other disciplines–as you can see from the photo below, Jerry did pretty well when he tried his hand at the 1000-yard Benchrest game. He won the 2005 NBRSA 1K BR championship with a dominant performance. Now the High Power crowd has to worry about Jerry as well…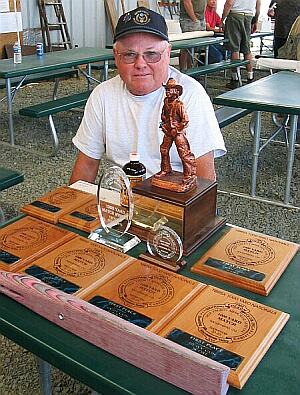 Similar Posts:
Share the post "Tierney Sets High Power Records"