July 30th, 2009
First Shipments of Hornady Case Prep Center Hit Market
Hand loaders have been awaiting the release of the Hornady Lock-N-Load™ Power Case Prep Center, ever since it was displayed at the 2009 SHOT Show. Midsouth Shooters Supply finally received its first shipment of the Hornady prep centers and put them on sale for $313.80, promptly selling out. More units are on the way.
The folks at Midsouth reported: "We finally received our first shipment of the Hornady Lock-N-Load Case Prep Center! We were so excited to see how one worked -– so we pulled out of the box and checked it out. Set up time was about three minutes and noise level was low. However, we discovered that you'll need a Hornady or Redding shell holder for the caliber you are trimming (or prepping). RCBS and Lyman shell holders do NOT work with this Prep Center. We also learned that you'll need to order the Large and Small Primer Pocket Reamers separately. Both large (005-390751) and small (005-390750) reamers cost $6.60 each."
Midsouth concluded that: "Overall the Hornady Prep Center is a really sturdy piece of equipment." Midsouth said the trimming/prepping tools work great and the machine is easy to clean. The improved T-bar handle gives better control over case height when trimming. At first, the Hornady's $300+ price may seem steep. However, if you purchase BOTH an RCBS Trim Pro Power Trimmer ($260.12) and Trim Mate Case Prep Center ($108.58), you'd spend $368.70 combined. Buying the Hornady gives you an all-in-one machine that is more efficient to use, and occupies a smaller footprint on your loading bench.
Below is a video demonstration of the Hornady Case Prep Center at SHOT Show 2009. Click on the "HQ" button for the higher resolution version which shows the tool operation more clearly.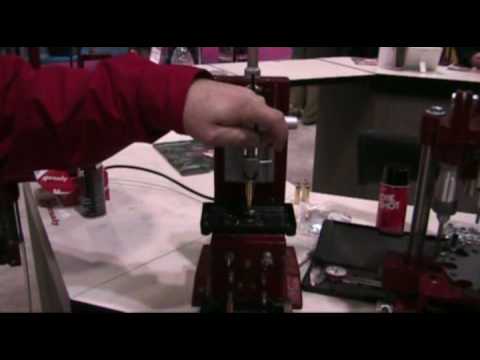 Similar Posts:
Share the post "First Shipments of Hornady Case Prep Center Hit Market"