November 5th, 2009
The 24th Annual "World Championship of Punkin Chunkin" will be held Friday November 6th through Sunday, November 8th, in Sussex County, Delaware. This hugely popular event draws 40,000-50,000 spectators each year. They gather to watch 100 or more amazing air cannons, catapults, trebuchets, giant slingshots, and other fantastic devices launch pumpkins into the air. In conjunction with the Punkin Chunkin Championship, there will be cooking contests, and live rockabilly music all three days.
On Saturday, the "Miss Punkin Chunkin" Pageant will be held around noon, with a large fireworks display at dusk. Proceeds from the annual event go to St. Jude's Children's Hospital, various other charities, and scholarships. Daily admission is $9.00 per adult and $2.00 parking per vehicle. Children under 10 are admitted free of charge. There are reasonably-priced hotels nearby and camping is permitted at the Championship site east of Bridgeville, Delaware. Directions are available online, or plug these coordinates into your GPS: Latitude = 38.7101657968, Longitude = -75.5315404535.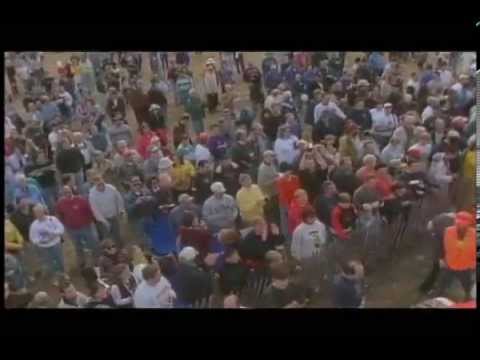 Want more Punkin Chunkin footage? Believe it or not, there's a full-length feature movie about the event: Flying Pumpkins: The Legend of Punkin Chunkin. To view movie clips, CLICK HERE.
You can find complete event info, including directions, on Punkinchunkin.com. To view many of the amazing machines, visit the event's Online Photo Galleries.
One of the greatest "big guns" in Punkin-Chunkin history is the aptly-named "Second Amendment". This 14-ton monster boasts a 100-foot-long barrel that can toss an appropriate projectile (e.g. a pumpkin or frozen turkey), over 5,000 feet (nearly one mile!). Muzzle velocity is an impressive 500 miles per hour (about 733 fps). The big cannon, shown below, holds the official world Punkin distance record, and is a 4-time overall winner (2002, 2003, 2005, 2006).