January 22nd, 2010
SHOT Show Report: New 'National Match' Die Sets, New Calibers, and Versa Pak Reloading Kit
Gas gunners take note — for 2010 Redding has created new "National Match" reloading sets in .223 Remington, .308 Winchester, and 30-06 Springfield. These new three-die sets are designed expressly for the AR15, M1A, and M1 Garand used in High Power comps and Garand matches. These kits include a full-length sizing die, a Competition Seater Die, and a taper crimp die. Previously these dies were only offered individually. If you're shooting an AR, Garand, or M1A, these new sets may be just what you need.
In addition to the National Match die sets, Redding has added new calibers to its die catalog for 2010. Complete die sets will now be offered for the popular 6.5 Creedmoor, the 260 Rem Improved 40° (also know as the 260 Ackley), and the 458 Socom. This should please the growing numbers of High Power shooters using the 6.5 Creedmoor, and the tactical guys looking for more velocity than a standard 260 Rem can deliver.
New Complete Basic Reloading Set
For shooters just getting started in reloading, Redding has put together a new basic reloading package that contains virtually everything you need except a press and dies. Redding's new Versa Pak includes a reloading scale, powder measure, case trimer, powder trickler, case lube pad, funnel, deburring tool, and other case prep tools. In addition, the Versa Pak comes with the Hodgdon Reloading Manual and Redding's excellent Advanced Handloading DVD. The Versa Pak will retail for about $350.00. That may sound like a lot, but if you add up the cost of all the gear included in the Versa Pak, it is a good value. You'll also save time (and shipping costs) by acquiring all the essential tools at one time.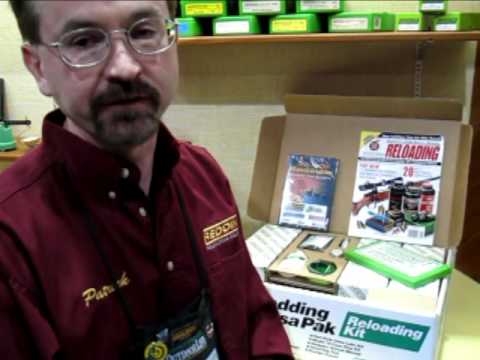 Similar Posts:
Share the post "SHOT Show Report: New 'National Match' Die Sets, New Calibers, and Versa Pak Reloading Kit"
Tags: .308, 223, Case Prep, Dies, Gas Guns, National Match, Powder Measure, Reloading, Scale