March 7th, 2010
Sinclair Offers New Tactical Bipod and Hornady AutoCharge
Sinclair Int'l has added many new products to its catalog, including recently-introduced reloading products from Hornady: AutoCharge electronic powder measure ($249.95), Lock-N-Load Concentricity Gauge ($99.95), and the Lock-N-Load UltraSonic Cleaning machine ($99.95). In addition, Sinclair has rolled out some impressive new products of its own, such as the new fully-adjustable, quick-attach Tactical/Varmint Bipod.
Sinclair Int'l Tactical/Varmint Bipod
With a hefty $229.95 MSRP, the new Sinclair Tactical/Varmint Bipod (item 04-8500) is nearly three times the price of a Harris bipod. Is it worth the extra money? For a typical varmint hunter, the answer might be no. But for the tactical competitor, the enhanced performance (and extra features) of the Sinclair tactical/varmint bipod may well be worth the extra coin.
The new Sinclair Tactical/Varmint Bipod is a strong, rugged design with billet aluminum and stainless steel construction throughout. There are many enhanced features compared to a Harris. First, the Sinclair Bipod's individually adjustable legs can spread much wider (and lower) than on a Harris. The legs adjust from 6 1/2 inches to 12 1/2 inches in length, and there is a positive stop on each leg. The Sinclair Bipod also comes with a built-in "Pod-Loc" style cant adjuster, a really important feature that must be retrofitted (for about $27) on a Harris. In addition to the cant adjustment lever, the Sinclair bipod has a secure quick-release attachment system — the same system used on Sinclair's popular F-Class Bipod. This lets you install or remove the bipod in seconds without any tools. Showing attention to detail, Sinclair also included an extra swivel stud on the bipod upper section, so you can attach a sling. Overall, the new 1 lb., 12 oz. Sinclair Tactical Bipod looks like a very good product that offers real advantages over a Harris for the tactical shooter. We just wish the price was lower.
Hornady AutoCharge Electronic Powder Scale & Dispenser
Here's the first look at Hornady's brand new Lock-N-Load AutoCharge electronic powder scale/dispenser. This unit can measure up to 1000 grains of powder. According to Hornady, the unit will calculate weight precisely to within ± 0.1 grains. That would put it on a par with the RCBS Chargemaster, though the Hornady unit sells for $60-$80 less than the "green machine". The Hornady has many nice features, such as an easily readable, back-lit display, trickle function, calibration weights suitable to both low and high powder charges, and plenty of memory for your favorite loads. The Hornady, priced at $249.95 (item 050068) at Sinclair, also features three, user-selectable dispensing speeds — something you won't find on the RCBS ChargeMaster. Those three speed settings let you optimize dispensing flow for the type of powder you're using.
We hope to get one of these Hornady AutoCharge units soon and run a head-to-head comparison with our RCBS Chargemaster. Below is a video from SHOT Show 2010 of an early production Hornady AutoCharge.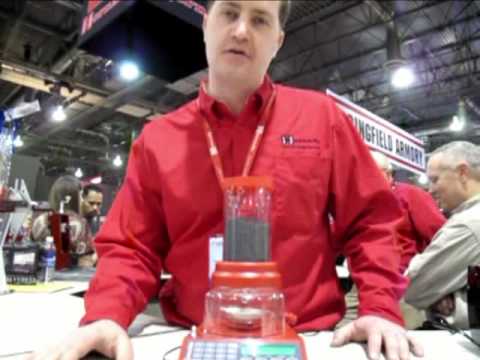 Similar Posts:
Share the post "Sinclair Offers New Tactical Bipod and Hornady AutoCharge"
Tags: Bipod, Brownells, Hornady Autocharge, Sinclair, Tactical