March 4th, 2023
Hold On — Wait One Minute … What's That Downrange?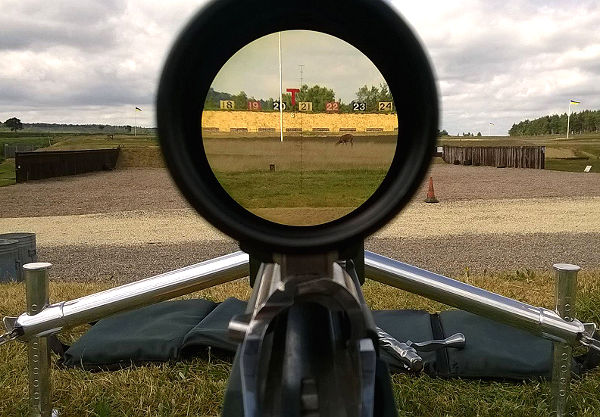 Click image to zoom full-screen.
What's wrong (or right?) with this picture? Does the "F" in F-class refer to "Fauna"? Look carefully at this Bisley Range photo taken by Australian R. Hurley while looking downrange through his March 8-80X scope. The photo was taken in 2015 at the Bisley National Shooting Centre in the UK.
The Story Behind the Photo
British shooter T. Stewart reports: "I was there when this photos was taken. All I can say was that Mr. Hurley was firmly reminded that should said deer accidentally jump in front of his bullet … he would spend five years 'At Her Majesty's Pleasure'."
"That morning we had five deer moving across the targets, literally blocking the V-Bull. Since we were on the 900-yard Firing Point, and elevated for such, obviously the bullet would pass well above them. But they do NOT move or flinch at the noise or passing bullets since they are not hunted on the Bisley Ranges. Earlier this year we saw a herd of 20 or so deer grazing slowly across the Range."
More Fauna Findings…
Apparently Bisley is not the only place were "the deer and the antelope play". In Canada, on the Connaught Ranges near Ottawa, Ontario, shooters often encounter a variety of wildlife. William McDonald from Ontario says: "Animals are a common sight on the Range. Along with deer we see geese, turkeys, and coyotes on a daily basis."

Likewise, E. Goodacre from Queensland, Australia often sees 'Roos on his home range: "I shoot at Ripley, Australia, and shooting is regularly interrupted by kangaroos. Our last silhouette match was delayed by an hour while 30 'Roos dawdled across — silly buggers!"
R. Hurley wasn't the first fellow to view deer through his F-Class rifle's scope. After seeing Hurley's photo from Bisley, B. Weeks posted this image, saying: "Been there, done that!"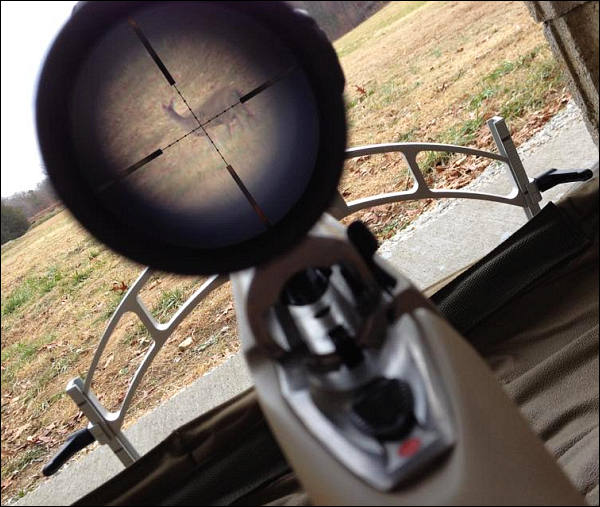 Similar Posts:
Share the post "Hold On — Wait One Minute … What's That Downrange?"
Tags: Bisley, Deer, Deer downrange, England Range, F-Class, F-TR, Humor post, March Scope, UK