May 1st, 2009
Sako Finnfire for Rimfire Tactical Competition
Forum Member Mark E. (Shooter65) is the proud owner of a handsome, very accurate SAKO Finnfire 'Range' 22LR rimfire. Fitted with a full-size stock that replicates Tikka's Master Sporter stocks, SAKO's Range model has the look and feel of a centerfire gun. The size and ergonomics of the Finnfire Range makes this an excellent cross-training rifle. If you want to train with inexpensive rimfire ammo with a rifle that duplicates the feel of a centerfire, the Finnfire Range is hard to beat. Mark has competed successfully with this rifle in Southern California Rimfire Tactical matches.
Mark recently replaced the factory tube with a hand-lapped Lilja barrel. The Lilja barrel has demonstrated superb accuracy. Below is a 10-shot group at 50 yards (left), and a "dot-drill" tactical target shot at 100 yards (right).
In the video below, Mark explains the features of his SAKO Finnfire 'Range'. This video was produced before the addition of the Lilja barrel, but the gun still shot extremely well. Unfortunately, as Mark notes, SAKO has halted production of the Finnfire Range. As a result, prices are rising for this highly desirable rimfire — guns that sold for $850 two years ago are now fetching $1100.00 or more.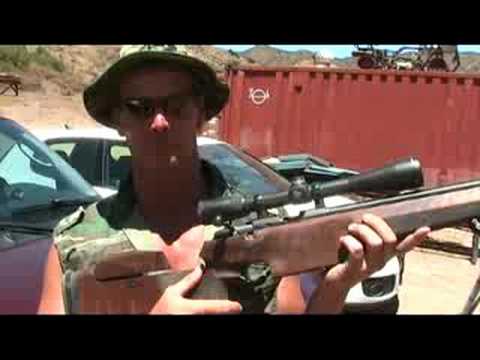 Similar Posts: