February 19th, 2010
If you have been watching the Winter Olympics, you've probably seen some coverage of Biathlon, a challenging sport that combines Nordic skiing and rimfire shooting. It takes years of training to produce a world-class Biathlete. In many European countries, future biathletes may start their training in grade school — like little leaguers do here in the USA. For example, in Norway, kids often get started in competitive biathlon as early as age 6. Basically, some youngsters start the sport as soon as they're big enough to strap on skis and to hold the rifle. In this video, you'll see four Norwegian kids, Torje (age 8), Anders (age 7), Tonje (age 9), and Mari (age 15) trying out an Izhmash Biathlon rifle.
You'll be impressed by the steady shooting skills of the youngsters, particularly 8-year-old Torje. He's a future champion in the making we think.
Here's another video with 15-year-old Mari, showing her rock-solid form with an Olympic-grade Izmash, using a quick-release arm sling. Note how steady she holds the rifle. This girl can shoot!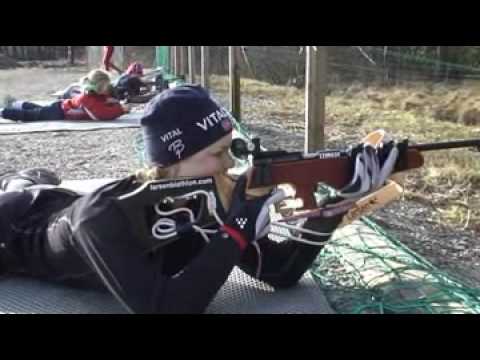 The rifles in the videos are both toggle-bolt Izhmash Biathlon guns, made in Russia. Like the German Fortner straight-pull action (used by Anschütz), the Izhmash toggle bolt action allows extremely rapid bolt-cycling. Shooters can quickly eject and reload without disturbing their shooting position or sight picture. The rifle in the first video is sold in the USA by Russian-American Armory for about $1400.00. That sounds expensive, but it is less than half the price of the top-of-the-line Anschütz Fortner biathlon rifle. The Izhmash Biathlon is offered in two models, the Biathlon 7-4 for adult men and the more compact Biathlon 7-3 for women and juniors.
Share the post "European Kids Start Biathlon Training at Young Age"