February 14th, 2010
Bryan Litz, Ballistician for Berger Bullets, is the author of the book Applied Ballistics for Long-Range Shooting. Before joining Berger, Bryan was a missile design engineer working with the U.S. Air Force. An NRA High Master, Bryan also happens to be one of the country's top long-range shooters. Bryan (aka "bsl135″ in our Forum) has written many ballistics programs and technical papers dealing with long-range flight dynamics of projectiles. Bryan has recorded some very impressive match performances recently. At the 2008 NRA National Championships at Camp Perry, Bryan beat 258 other competitors to win the Palma Individual Trophy Match. Bryan shot a remarkable 450/26x, not dropping a single point.
Palma Match — Caught on Video
Bryan has crafted a cool video that puts the viewer "in the driver's seat" as Bryan shoots an 800-yard match with his .308 Winchester, iron-sights Palma rifle. Watch as each shot is marked and scored. Bryan explains: "The inset target at upper right displays each shot location in sequence. The score card shows the windage used for each shot, as well as the windage that was 'Required' for that shot to be centered. Wind wasn't very challenging in this string, only requiring between 2 and 3 MOA right. This particular match is the 800-yard phase of a Palma course fired in the summer of 2008 at Camp Atterbury, IN. NOTE: I've had to cut out some 'pauses', and speed up the film in order to meet YouTube's size requirements, so that's why we sound like chipmunks."
CLICK SCREEN to WATCH VIDEO. Click Menu Button for High Quality (HQ) Option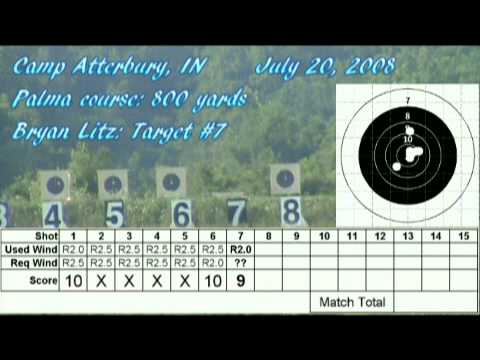 Bryan also has his own website with a number of authoritative articles. Topics include: Bullet Design, Meplat Trimming, Gyroscopic and Coreolis Drift, Palma Bullet Analysis, How Ballistics Programs Work, and Ballistic Coefficient Testing. CLICK HERE to visit BRYAN LITZ Website.