February 1st, 2010
Many of our readers know Joel Kendrick, one of America's top mid-range shooters. Joel is a two-time IBS 600-yard Shooter of the Year, and we have featured Joel's match-winning 6×44 as one of our Guns of the Week. Joel now works with MMi-Trutec, specializing in the salt-bath nitriding process. This is a surface-hardening procedure for steel that creates a super-hard, low friction layer for the top 10-20 microns of the metal. Barrels treated with salt-bath-nitriding show much improved wear resistance and reduced friction.
For match rifles, varmint rifles, and hunting rifles, the most significant benefits of salt-bath nitriding are enhanced barrel life, and easier cleaning. Joel's own F-Class rifle has a nitrided stainless barrel with over 5000 rounds — and it still holds 1/4 MOA at 100 yards. Other well-known shooters, such as John Whidden, have observed that nitrided barrels can shoot longer strings of fire between cleanings, with no reduction of accuracy. What is the cost of nitriding? As Joel explains in the video below, nitriding a single barrel costs $60.00, but there is a minimum first-time lot charge of $200.00. If you submit multiple barrels at the same time, the price per barrel can be reduced significantly. For more info, visit the MMI-Trutec website or contact Joel Kendrick by phone (704) 616-6442, or via email: joelkndrck [at] aol.com .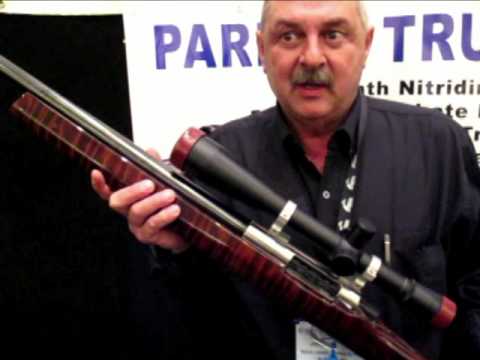 Is there a downside to nitriding? First, the nitriding process results in a BLACK matte or satin finish. If you like the natural silver finish of stainless steel, you shouldn't nitride your barrel. Second, and most importantly, the salt-bath-nitriding process creates a surface so hard that you can NOT re-cut the chamber with normal reaming tools. Therefore, before nitriding, the barrel must be finished chambered. Basically the barrel should be fully finished, crowned, chambered and headspaced before nitriding. NOTE: MMi Trutec CAN mask the crown during nitriding so that the barrel can be re-crowned at a later time.