February 12th, 2010
The 2010 Winter Olympics kick off tonight in Vancouver, BC, Canada. Shooting sports fans should follow the USA Biathlon team, which is considered the strongest group of American biathletes ever. Tim Burke, a top finisher in recent Biathlon World Cup events in Europe, is one of the favorites to collect a medal in Vancouver. That would be quite an accomplishment. Thus far, no American has ever won an Olympic Biathlon medal. Burke hope to change that. In the video below, Tim explains his training methods and his love for the sport. Definitely watch this video (produced by Time.com). Tim shows off his shooting skills and the reporter even tries out Tim's Anschütz rifle. In an entire day of training, Tim only missed one target.
WATCH This Video — It Does a Great Job Explaining the Sport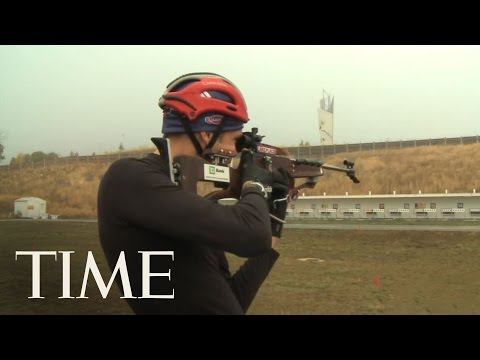 While the American team is strong, it will face tough competition from the Europeans. Biathlon is far more popular in Europe than it is in the USA. In fact Biathlon is the #1 televised winter sport in Europe. Nonetheless, the American team has been training hard in hopes of a strong performance. The video below shows members of the USA Biathlon team doing off-season "dry land" training. In the summer months, Biathletes train with special short skis equipped with wheels. They shoot with the same rimfire rifles used in winter events.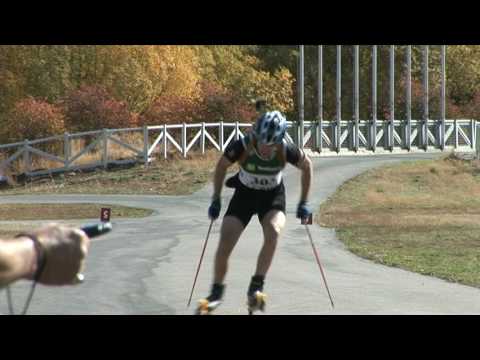 Over 90% of Olympic-level Biathletes use Anschütz rifles, most commonly fitted with a straight-pull Fortner action. These rifles are capable of 1/4 MOA accuracy at 50 meters. Of course, it's not so easy to hold the guns steady after skiing many kilometers with no time to rest before engaging the targets. That's what makes Biathlon so challenging. For more information on Biathlon competition, visit the TeamUSA.org website.