December 9th, 2010
Most reloaders have used a powder trickler at one time or another. However, they can be frustrating to use for a variety of reasons — e.g. the tube is too short, or the trickler is too low, or the unit isn't stable enough, or the powder volume isn't adequate. Well, the inventors of the Omega Powered Powder Trickler have considered all those practical shortcomings in existing tricklers, and built a superior product — a "better mouse trap."
Every aspect of the new $55.00 Omega powered trickler (from Dandy Products LLC) shows smart thinking. First, hopper height can be adjusted from 1/2″ to 5.5″ high. The tube is long enough to reach the middle of large-footprint scales such as the Denver Instrument MXX-123. And the outer end of the tube is cut at an angle, so you can see the powder kernels as they flow out — no more surprise clumps that raise your charge 0.2 grains. The powder hopper itself is bigger than most, holding a full 1000 grains. That lets you load all afternoon without having to constantly replenish your trickler.
In practice, the Omega trickler is easy to use. It is reasonably fast, while being as precise as anything on the market. The unit is controlled by a two-button control pad, with a black button for slow feed and red button for fast feed. You can use the fast button to load the bulk of reloading powder and then use the slow button to maximize the accuracy of your load. The control pad is connected to the dispenser by a 24″ cable. That two-foot cable run allows plenty of trickler placement options on your bench. Watch the video below to see the Omega Trickler in use.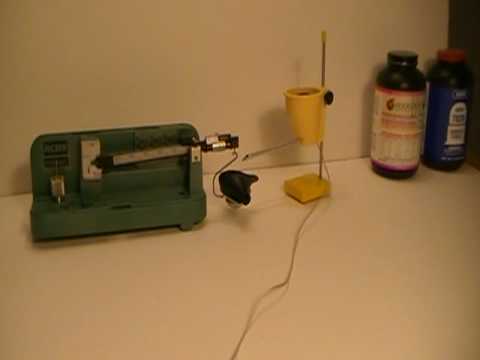 Omega User Comments
Posting on 24HourCampfire.com, JasonK gave the Omega Trickler high marks: "This thing rocks! It can trickle fast, it can trickle slow, it can drop a kernel or two at a time. After ordering my Omega I quickly shopped for an Acculab VIC-123 scale, accurate to within .02 grains."
Another Omega user, In2Deep, writes: "You can actually tap the low-speed button and drop kernels while watching the scale. After a little practice it only takes a few seconds to trickle up a load. Using an Acculab 123 scale, it can drop charges that repeatedly read down to around 4 one-hundredth's of a grain. It turned out to be a tool that really works and saves time. There are rubber feet on the unit and surprisingly it does not cause interference with the digital scale which is often mentioned as a problem with most of the vibratory tricklers. Not many products are even worth the time to do a testimonial but this is a winner[.]"
Forum member Barry O (aka TheBlueEyedBear) has been using an Omega Trickler for a while, and he currently has a second-generation (upgraded) unit on his bench. Barry likes the unit, with some reservations. Barry tells us: "it took me some time to get used to it. One main gripe is the length of time it takes to get the thing primed and ready to dispense powder. But after that, not too bad. I still use my trusty tweezers for fine tuning loads."
Handy View Prism for Beam Scale Viewing
For reloders using balance-beam scales, Omega offers a clever portable prism that makes it much easier to see the tip of the balance beam, when the scale is on the benchtop. Omega's Handy View accessory mounts a prism in a plastic stand. The prism changes the sightline so you can easily monitor the beam tip without having to bend down to see the beam alignment marks.
The prism slides up/down and swivels (around horizontal axis) to allow adjustment of viewing angle. It is a simple set-up, but it really works, allowing you to monitor scale beam movement with greater precision (and less neck strain). The Handy View costs $17.95, and is offered with either a yellow stand or clear plastic stand. You can see how the Handy View works in the video below.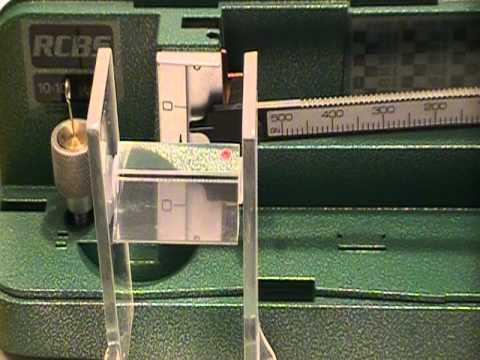 Thanks to Boyd Allen for suggesting this product for review.