December 10th, 2010
USA Shooting has named Kim Rhode and Staff Sgt. Joshua Richmond as the 2010 Female and Male Athlete of the Year. Rhode had an outstanding year with a World Championship title, a National title, two World Cup gold medals, a World Cup Final silver and an equaled world record. Just three weeks after Nationals, Rhode took on the top shooters in the world at the World Shooting Championships in Munich, Germany. Rhode won the gold medal and World Champion title with 97 out of 100 targets. National Shotgun Coach Bret Erickson said, "Kim is a dominating force on the international scene and has been for years."
Rhode currently leads the point total in U.S. Olympic Team selection, and unless another shooter equals or exceeds her point total, she will compete at the 2012 Olympic Games in London. That would be her fifth consecutive Olympic Games appearance (she has medaled in the previous four). In London, Rhode would have a chance to become the first individual-sport American athlete to medal in five consecutive Olympics.
Richmond Rises to Top in 2010
Staff Sgt. Joshua Richmond was a world-beater in 2010, finishing as the ISSF World Champion in double-trap. Josh began his impressive year in Acapulco, Mexico at the first shotgun World Cup of the season. Richmond scored 192 out of 200 targets for the gold medal. In Colorado Springs, Richmond won the silver medal at the USA Shooting National Championship with 333 out of 350 targets.
In the video below, you can watch Richmond win the Gold Medal for Men's Double-Trap at the 2010 ISSF World Shooting Championship in Munich Germany. In Munich, Richmond was on fire. He nailed 146 out of 150 targets in qualification and shot a perfect 50 in the final. That gave Josh a total of 196 out of 200 targets — equaling the world record, and securing the World Championship.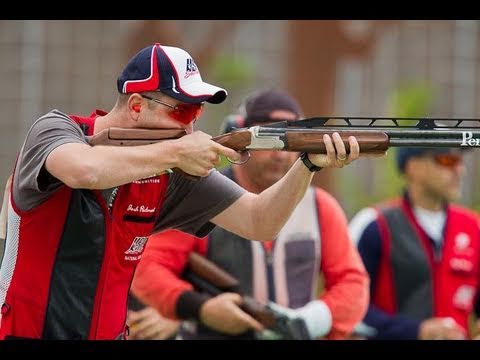 Richmond is stationed with the U.S. Army Marksmanship Unit at Fort Benning, GA, where he is training in preparation for the 2012 Olympics. Richmond credits the USAMU for his success: "I would like to thank the USAMU for molding me into a champion."