December 23rd, 2010
Over the past few weeks, we've had a chance to test and evaluate a one-piece shooting rest designed by Wally Brownlee of TargetShooting.com. The model 1000LP rest is solid, strong, nicely-machined, and versatile. We found it provides a very stable platform for every kind of rifle — from big magnums all the way down to benchrest air rifles.
The 1000LP rest is distinguished by its use of two (2) leather sandbags, a normal-sized one in the front and a compact mini-bag in the rear. Many other one-piece target rests use low-friction pads or Delrin contacts in the rear. The typical "lead-sled" rests use a solid cradle or V-block in the rear. The small, cube-like, rear mini-bag helps the model 1000LP out-perform typical, one-piece steady-rests. The small rear bag, which is supported by metal plates on three sides, does a great job stabilizing your gun. We also found that the combination of front and rear sandbags seems to provide good vibration damping — something that really helps with precision shooting.
When our designated trigger-puller Joe Friedrich tried the 1000LP with his tuned rimfire benchrest rifle, he immediately noticed that his gun shot amazingly well. Joe owns a variety of high-quality, one-piece rests, and the model 1000LP produced results equal to the best of them. Consider this, in Joe's ARA unlimited discipline, a perfect score on a 25-bull target is a 2500, with "worst edge" scoring. "Perfect" 2500s are very rare. Only a handful are shot each year in ARA competition. Now get this, Joe managed to shoot multiple 2500s in a row off this rest, and he did that shooting in a variety of conditions (with different lots of ammo) over a 24-hour period. Joe was amazed that this rest, which was not designed for rimfire benchrest competition, could perform so well.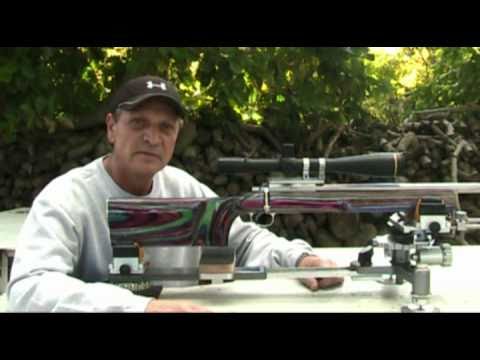 The model 1000LP has many features which contribute to the rest's fine performance. First, as noted above, the small, 3-way-braced rear bag really seems to work, as long as it fits your stock well. Second, the windage control (which can be switched from left side to right side), is extremely precise and positive — it has zero slop. Third, the 1000LP has a relatively low-mass center bridge connecting the higher-mass front and rear sections. We think this barbell-type design, combined with the integral hand-rest, helps quell vibrations. Finally, the rear height control lets you make fine elevation adjustments without altering the gun's position on the front bag.
The 1000LP Works Well for Many Purposes
While we were enthusiastic about the 1000LP's performance with a rimfire benchrest rifle, we want to stress that this rest was not optimized for smallbore shooting. In fact the 1000LP was designed primarily to provide a stable platform for centerfire rifles. It works great for sighting in your hunting rifle, and it is a fine choice for varminters shooting off a field bench. Though not as fast to adjust as a joystick rest, the 1000LP is no slouch. The rear elevation knob is very quick and easy to employ, while the windage adjustment provides precise horizontal tracking with no vertical or diagonal drift. And because the front support is connected rigidly to the rear section, your front and rear bag always stay in perfect alignment, shot after shot. In the video below you can see Wally Brownlee shooting a 22-250 varmint rifle off his 1000LP rest. Note how well the gun tracks, and how little torque and hop there are, even with a narrow sporter-style stock. (Of course, the installed suppressor does reduce some recoil.)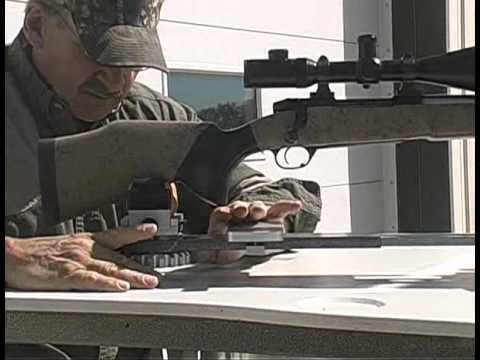 1000LP Breaks Down into Sections for Transport
The TargetShooting.com model 1000LP easily breaks down into two or three sections. This makes it is easier to pack up and transport than most one-piece rests. The 1000LP also allows easy exchange of front bag assemblies so you can quickly switch from a 3″-wide bag to a narrow front bag for thinner, hunter-style fore-ends. A variety of accessories are available for the model 1000LP, including extra quick-release front bag units ($125.00), large-diameter machined discs for the feet (for added stability), and a dual-rail, front fore-end stop ($89.95).
Model 1000LP Starts at $699.95
Are there downsides to the model 1000LP? Well at $699.95 for the base unit, the 1000LP is far more expensive than a typical Lead Sled-type one-piece rest sold for hunters. However, that's like comparing a Mercedes with a Yugo. The 1000LP is far more sophisticated than a Lead Sled. Plus, as Joe demonstrated, the model 1000LP can do double-duty as a true competition rest. Don't even think about using a primitive $130.00 Lead Sled in ARA benchrest competition.
We also found that peak performance demands careful sandbag packing and a good fit of the rear bag to your particular stock. Someone who shoots multiple rifles may want to purchase more than one rear mini-bag so that the rear bag-to-stock fit is optimal. Joe found that bag-to-stock matching was important if you want to shoot ultra-small groups off this rest.
If you are interested in the model 1000LP one-piece rest, visit www.TargetShooting.com or call Wally Brownlee at (800) 611-2164, or +1 605-868-2164 (int'l).
Disclosure: TargetShooting.com provided a "loaner" 1000LP (with accessories) for testing, but Joe Friedrich then purchased the rest at a slight discount off retail.