March 16th, 2011
Superstar Lady Shooters Featured on Outdoor Channel Tonight
Tonight, on the Outdoor Channel, you can watch four of America's best female action and multi-gun shooters. In tonight's episode of the Shooting Gallery on the Outdoor Channel, ace USPSA shooters Julie Golob, Tasha Hanish, Lisa Munson, and Randi Rogers show off their skills with pistols, rifles, and shotguns. Golob, captain of Team Smith & Wesson, is a National Champion Pistol Shooter who is now taking up the multi-gun challenge. Hanish, one of the top shooters for Team FNH, is a two-time USPSA Multi-Gun National Champion (Women's Tactical Division). Lisa Munson has captured 11 National Pistol titles over the years, and now competes with Team Smith & Wesson, along with Golob. Randi Rogers (aka 'Holy Terror') is a multi-time Cowboy Action Ladies World Champion who has been shooting modern pistols with Team Glock for the past few years. Randi has won numerous tournaments for Glock. If you ever get a chance to watch Randi shoot a lever gun (from her cowboy action days) — you will be amazed. In speed events, using her lever gun, she could beat most male competitors who are using modern semi-auto rifles. She is that fast and accurate.
Preview Tonight's Shooting Gallery Episode
Here is a preview from Tonight's Shooting Gallery, hosted by Michael Bane.
Outdoor Channel Airtimes are: 03-16-11 at 3:30pm, 7:00pm, 9:00pm | 03-17-11 at 3:00am.
Tasha Hanish at Multi-Gun Nationals — You Go, Girl!
In the following video, taken at the 2010 USPSA Multi-Gun Nationals, you can see Tasha Hanish blaze through a 3-gun stage. Tasha starts with her 9mm pistol, then grabs her shotgun to blast steel plates, and finally engages a bank of 200-yard targets with her FNH SCAR rifle. Tasha won the Ladies' 2010 Multi-Gun Championship in the Tactical Class.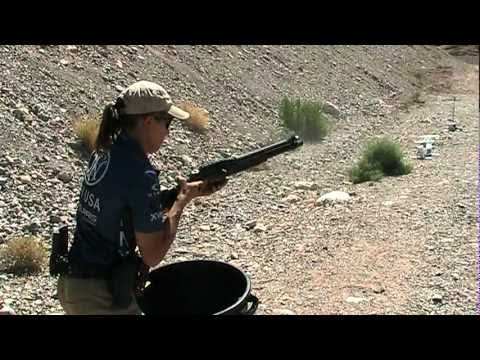 Similar Posts:
Share the post "Superstar Lady Shooters Featured on Outdoor Channel Tonight"
Tags: FNH, Glock, Julie Golob, Michael Bane, Outdoor Channel, Randi Rogers, Shooting Gallery, Smith Wesson, USPSA