March 3rd, 2010
The USAMU — Profiled in Words, Pictures, & Video
GunsAmerica.com, a leading gun classifieds website, has launched a web magazine to complement its firearms for sale listing. Featured in the new webzine is a lengthy profile of the U.S. Army Marksmanship Unit, authored by Michael Molinaro, USAMU PAO. This article is full of interesting facts, and the video below is definitely worth watching.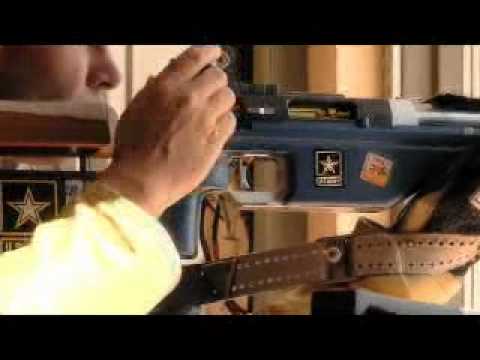 Located at Ft. Benning, Georgia, the USAMU includes many current world and Olympic champions. Members of the unit compete in every major international shooting competition. They very often win, and for that reason the USAMU is referred to as "The Home of the Champions." When not training, or competing in shooting events, USAMU soldiers serve as marksmanship trainers for other U.S. Army units and even allied forces overseas. Recently, a USAMU group was deployed to Afghanistan where they worked with allied Afghan (ANA) units to improve the ANA troops' shooting skills.
The USAMU also conducts numerous clinics throughout the year. The USAMU teaches more than a thousand novice and experienced shooters at the small-arms firing school every summer at Camp Perry, Ohio. The International Rifle, International Pistol, and Action Shooting teams all host popular youth camps each summer.
USAMU is composed of six competitive shooting sections: Service Rifle, Service Pistol, Action Shooting, International Rifle, International Pistol, and Shotgun. International Rifle, International Pistol, and Shotgun are Olympic sports. The USAMU's world-class facilities (for both training and competition) consist of 260 acres with 7 ranges and 18 buildings.
Since 1956, members of the USAMU have won hundreds of individual and team national titles, more than 40 World Championships, and 23 Olympic medals. Two noncommissioned officers in the unit, Sgt. Vincent Hancock and Sgt. Glenn Eller, are current Olympic Champions. Sgt. 1st Class James Henderson is the reigning National Pistol Champion and holds countless records in service pistol shooting. Sgt. Daniel Horner is the National Multi-Gun Champion. Spc. Joe Hein is the National smallbore prone Champion.
CLICK HERE to Read the Complete Story….

Similar Posts:
Share the post "The USAMU — Profiled in Words, Pictures, & Video"
Tags: Afghanistan, Marksmanship, Olympics, USAMU