June 19th, 2007
Allie Euber shot a potential new IBS Benchrest for Score World Record at the recent St. Johnsbury, VT match. In the Light Varmint (10.5-lb) class, Allie posted a two-day, 100/200-yard Grand Aggregate of 500 (the maximum point total), with 35 Xs. If this is certified, it beats the previous record of 500-33x set by B. Lembo way back in 1995. (The 100/200 meter record is R. Read's 500-24X set in 2004.) We congratulate Allie on great shooting, and beating a long-standing mark.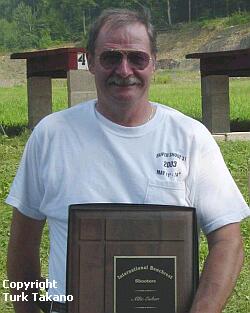 Allie told us: "I had won the 100-yard with my Heavy Varmint, and had strung together a high X-Count with the Heavy. I pulled out the Light gun and it shot even more Xs, especiallly at 200 yards. On that last 200-yard stage, the conditions were pretty good–cloudy, overcast (pre-rain)." Allie's record-setting LV was a 30BR with a BAT action and 3-groove, 17-twist Lilja barrel, which he had chambered himself. Allie told us he "like to run 'em hot", so he used "a full case of H4198″ with his own 30-caliber 7.5 ogive, 117gr flatbase match bullets. To order these bullets contact Euber Bullets, No. Orwell Road, Orwell, VT 05760, (802) 948-2621.
Reed Garfield emailed us noting that this wasn't the first major record set at the Caledonia Forest and Stream Club in St. Johnsbury: "FYI, in 2005 Greg Palman of Aurora, ME broke the long-standing HV 100/200-yard Grand Agg at this range with a 500/39X. Our little farmer's cow pasture up in Northern Vermont is now the home of both the HV and LV records."
Share the post "Allie Euber Sets Potential IBS LV Score Record"