December 8th, 2010
Fort Benning 3-Gun Match on ShootingUSA TV Today
If you get the Outdoor Channel, tune in to the ShootingUSA hour of programming tonight. The first half-hour features the Fort Benning 3-Gun Match, one of the most popular multi-gun matches of the year. This is the only Multi-gun match that draws on the assets of the US Army — that means competitors get to ride in armored fighting vehicles on some stages. This year the match was designed to represent different army units, beginning with basic training and a DI yelling commands at the competitors. Below is some helmet-cam footage shot by our friend Zak Smith at the 2008 Fort Benning 3-Gun Match. In this stage, which was based on a "Sgt. York" scenario, Zak starts in the back of a Bradley Fighting Vehicle and proceeds into a trench system to engage pistol targets.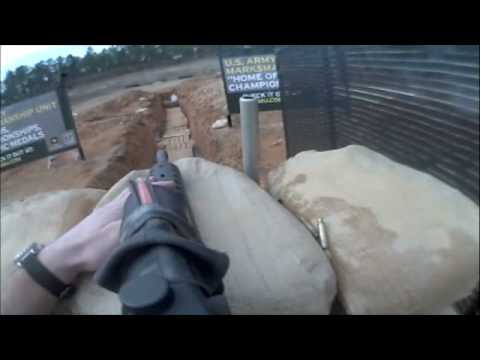 The "Sighting In with Shooting USA" half-hour follows the Fort Benning feature. On this week's "Sighting In" segment, soldiers from the US Army Marksmanship team (USAMU) action shooting team conduct a skills clinic for young shooters. This clinic focuses on basic skills and safety training. The USAMU Kids Clinic is the effort to help expand participation in practical shooting, and develop future champions in USPSA competition.
ShootingUSA TV and Sighting In air Wednesday on the Outdoor Channel at these times:
* Eastern Time: 4:00 PM, 8:30 PM, 12:00 Midnight
* Central Time: 3:00 PM, 7:30 PM, 11:00 PM
* Mountain Time: 2:00 PM, 6:30 PM, 10:00 PM
* Pacific Time: 1:00 PM, 5:30 PM, 9:00 PM
NOTE: Set your DVR to record both Shooting USA and Sighting In, listed as half hours.

Similar Posts:
Share the post "Fort Benning 3-Gun Match on ShootingUSA TV Today"
Tags: 3-Gun, Fort Benning, Multi-Gun, ShootingUSA, Television