January 19th, 2010
NEW Steyr SSG 08 Showcases Sophisticated Design Features
At the Media Day rifle venues, "Tactical" rifles were definitely the featured attraction. There were, of course, many AR-based black rifle offerings, but the purpose-built, precision bolt guns really were the stars of Media Day this year. Savage has a new .338 Lapua Magnum, its first ever. SAKO unveiled an impressive new .338 TRG with front rails and a very sophisticated folding stock (more on that later). Barrett had some thundering big boomers on display. You could feel the compression from the muzzle blast on the new .416 Barrett a dozen feet away. JP Enterprises had its handsome new MOR-07 on display. This features an aluminum chassis with either tubular or square 2×4-style fore-arm, plus a buttstock that looks like the Magpul AR stock. JP's new MOR (Manually Operated Rifle) is offered either as a chassis to fit Rem footprint receivers, or as a $4499.00 complete rifle.
Though there were many impressive domestic tactical bolt guns, one of the nicest overall designs, in this Editor's opinion, came from Austria's Steyr Arms. The new Steyr SSG 08, shown below, features an advanced folding stock that is solid in the locked position while offering full adjustability of comb height and length of pull. The pistol grip was one of the most comfortable I've tried. The SSG 08 features a unique, 3-position triggersafety. In the "full safe" position, a positive pop-up selector locks the safety in place and actually blocks the firing pin. The detachable box magazine can be secured in two positions. In the first, the magazine is fully retained in the gun but you can cycle the bolt without picking up or extracting a round.
While the SSG 08 had all the tactical bells and whistles (such as forearm rails and 10-round magazine), it was the overall execution and competence of the weapon that impressed me. The design was well thought out — there were no "rough edges", and everything, from the buttstock hinge to the mag release, functioned smoothly (and quietly). What separated the SSG 08 from most of the competition was the quality of the trigger. Many of the tactical rifles had very, very heavy trigger pulls with lots of over-travel. The Steyr SSG 08's trigger was crisp and light. Shooting this gun was a pleasure. One noticed the attention to detail in every element of the rifle. We are told that Steyr received input from Austria's Special Forces on this rifle. We aren't surprised. With the SSG 08, one can see that real marksmen were involved in the design.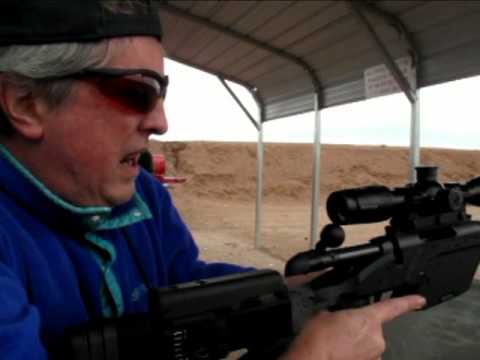 Similar Posts:
Share the post "NEW Steyr SSG 08 Showcases Sophisticated Design Features"
Tags: .308 Win, DBM, Folding Stock, Sniper, Tactical