January 20th, 2009
SHOT Show Report: Carb-Out & New Wipe-Out Formula
Jason interviewed Terry Paul of SharpShoot-R™ Precision Products. Terry is the inventor of the Wipe-Out brushless bore cleaner, Carb-Out carbon remover, and Patch-Out, a formulation that works like Wipe-Out but without the foam. This Editor has been using Wipe-Out for more than two years now, and I'm very happy with the results. While some barrels (and cartridge/bullet combos) DO need brushing, some wet patches and Wipe-Out every 40 rounds or so is all my Pac-Nor 3-groove 6BR barrel has needed to stay competitive for nearly 1000 rounds. That barrel has stayed clean with no brushing and there has been very little throat erosion.
Terry Paul announced that SharpShoot-R has improved the formulation of Wipe-Out. The foam cleaner is now 25% stronger than before. Wipe-Out is now sold with an applicator tube and chamber plug. This makes it easier to apply Wipe-Out from the breech. (However, in our tests, the hard plastic chamber plug worked well in a 6.5mm chamber, but was hard to seat in a .223 Rem chamber. We would rather see a longer, softer tip with an O-ring.)
Carb-Out is another SharpShoot-R product popular with Benchrest shooters. Terry revealed that Tony Boyer, the all-time BR Hall of Fame points leader, uses and endorses Carb-Out. Tony believes the product helps remove harmful carbon deposits while reducing the need for abrasives or aggressive brushing. Watch the Video below to learn more about Wipe-Out and Carb-Out.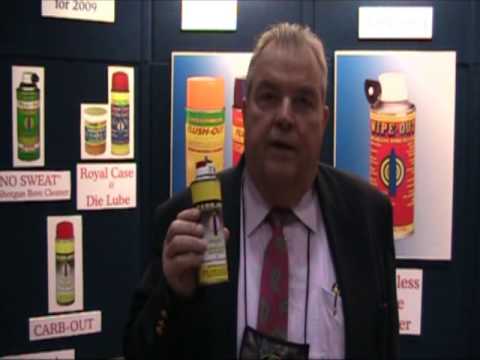 Similar Posts:
Share the post "SHOT Show Report: Carb-Out & New Wipe-Out Formula"
Tags: Barrels, Bore Cleaner, Carbon, Foam