January 18th, 2009
SHOT Show Report: Hornady Case Prep Center in Action
Hornady recently introduced its new multi-function case prep center. (We call it the "Tower of Power"). This machine trims cases to length, chamfers the case mouth (inside and out), and cleans the inside of necks and primer pockets. On the top part of the case prep center you fit your case in a shell-holder then lower it down on a powered cutter. It's sort of like a drill-press, except the cutter turns rather than the brass. On the bottom of the prep center are six (6) horizontal power take-offs. These can be fitted with inside and outside chamferers, a neck brush, and primer pocket brushes.
The new Hornady Case Prep Center, product No. 050012, is available at vendors now. MSRP is $431.67, with expected "street price" around $300.00. You should definitely watch the Video linked below, as it shows the case trimmer in action. If our written description of the inline vertical trimmer left you confused, it will quickly become clear once you watch the video.
NOTE: You can see tool details better on YouTube.com, which will display the widescreen version of the video taken at SHOT Show. You can also select "high quality" playback on YouTube.com.
CLICK HERE for Widescreen Hornady Case Prep Center Video.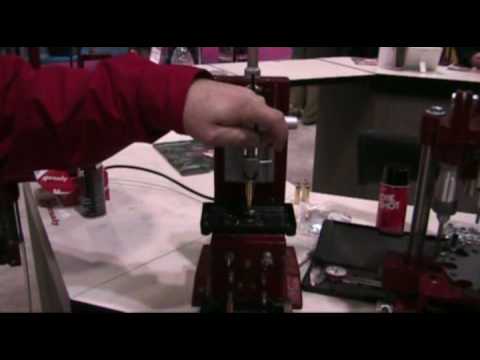 Similar Posts:
Share the post "SHOT Show Report: Hornady Case Prep Center in Action"