January 16th, 2011
Most of our readers know that AccurateShooter.com completed a major site upgrade late last year. But perhaps you haven't seen all the new features yet. The site has been completely over-hauled and improved, with a larger format, more photos, better search engine, easier navigation, and database-served articles (to help you find related content faster).
Explore our Updated Website
Visit www.accurateshooter.com, to check out our new home page. There you'll find a selection of popular articles (that change with each new page visit), a "feed" of our latest Daily Bulletin items, plus links to videos, free targets, free Classified Ads, and of course our popular Cartridge Guides.
New Featured Tubegun Story with Eliseo Video Interview
We just released our latest Featured Gun of the Week Story. This article spotlights a .308 Win tubegun built with an Eliseo (Competition Machine) RTS Chassis. Mark LaFevers, the gun's owner, assembled the rifle himself and chambered the barrel. And get this — Mark even built his own bipod, bag-riders, scope rings, and advanced muzzle brake. The story is a "must read" for all Tubegunners and .308 Win fans. CLICK HERE to read the story. For a sample, watch the video below, which features an interview with Tubegun guru Gary Eliseo.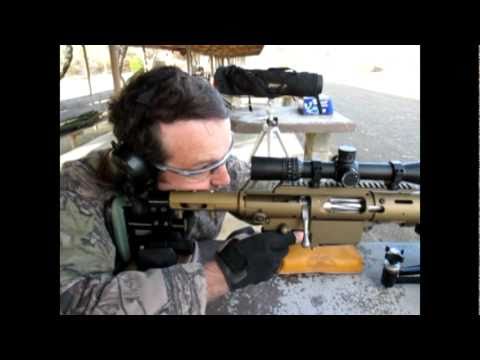 This new Tubegun article illustrates some of the cool features of our upgraded website. First, we've embedded thumbnail links to related articles within the text. In addition, in the right column you'll find a set of links to related stories. Just click on the link (as shown by the arrows) to real a new story on a similar topic. This makes it is easy for readers to find interesting, relevant content. All articles are now searchable through a fast search engine. You'll find a search window at the upper right hand corner of every page in the updated website.