January 23rd, 2011
SHOT Show Report: Something Old, Something New from CZ-USA
Bargain Competition Air Rifle — Model 200 S
The new red and black model 200 S air rifle from CZ-USA is an excellent deal at $429.00 MSRP. Expect to find this at discounters for around $399.00. For that price you get a modern, ergonomic three-position stock, an nice adjustable 2-stage trigger with low pull weight, and a 4x32mm scope. The action also has dovetails to mount iron sights. Offering 16 Joules of energy from its gauge-equipped air cylinder, the 200 S airgun will launch .177 caliber pellets at 800 FPS. As Kelly Bachand explains in the video below, this rifle offers plenty of bang for the buck. Kelly says he has "spent a lot more money for an air rifle with far fewer features." If you are looking for a training rifle for your club or organization, the CZ 200 S would be a good choice. Kelly feels this air rifle is a real winner for the price.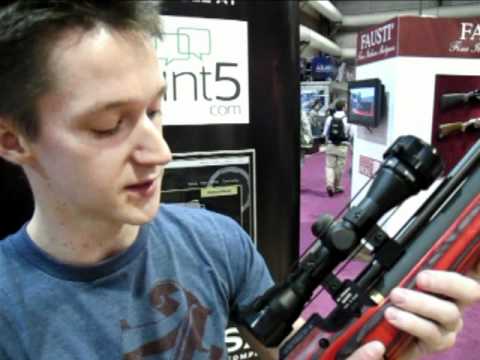 Perfect Fit — the CZ550 FS Mannlicher
As this website's Editor, I see hundreds of rifles at SHOT Show. If there was one rifle I wanted to purchase and take home from this year's Show, it was the CZ 550 FS (see video above). A 7.2-lb Mannlicher-stocked field rifle, with 20.5″ barrel, this gun fit me like a dream. Equipped with safari-style iron sights, the rifle mounted and indexed perfectly. The sights seem to align themselves. The instant I shouldered the rifle with my cheek on the rounded Euro-style comb, the front bead-tipped blade indexed perfectly in the rear v-notch. I could literally mount this rifle to my shoulder with my eyes closed, then open my eye and find the safari sights were perfectly aligned both vertically and horizontally. That's remarkable. Watch the above video — the CZ 550 is covered in the second half.
The action is very smooth — much better than most domestic factory guns, and noticeably smoother than a Tikka T3. The top of the action has a 19mm dovetail for secure, low-profile mounting of scope rings. The 550 FS comes with a handsome Turkish walnut stock, fitted with proper sling swivels. This rifle has been very popular with owners, and I can understand why — it's light, easy to handle, and it is one of the best-pointing hunting rifles I've ever shouldered. The model 550 FS is offered in a variety of calibers: .243 Win, 6.5×55, .270 Win, .308 Win, 30-06, and 9.3x62mm. Note, for 2011, CZ is offering a Mannlicher-stocked rimfire rifle chambered in .17 HMR, the CZ model 452 FS, priced at $514.00 MSRP. That would be a great carry-around varminter for squirrels and small game.
Related Resources
Similar Posts:
Share the post "SHOT Show Report: Something Old, Something New from CZ-USA"
Tags: Air Rifle, Bavarian, CZ, CZ 550 FS, CZ-USA, Full stock, Mannlicher