January 18th, 2011
MEDIA Day — Some Interesting New Products
Media Day at the Boulder City, Nevada range was a blast — literally. We had a chance to sample some big .338 Lapua Magnum rifles from Barrett and Sako. The recoil on the Sako TRG42 was epic, as it lacked a muzzle brake, and the front sandbag did nothing to tame rearward movement. We'll provide more info on the TRG42 (and its new folding stock) later this week.
New Tikka T3 Sporter — Master Sporter Reborn
Tikka unveiled an interesting new T3 Sporter, fitted out in a handsome laminated position stock. This seems to be the successor to Tikka's popular (but long since discontinued) Master Sporter series. We only hope Beretta, Tikka's parent company, will eventually offer a wider selection of calibers — right now Beretta only plans to sell .223 Rem and 22-250 versions in the USA.
MRAD is Impressive — and Brutally Expensive
Barrett's new MRAD "adaptible" rifle was an impressive beast — as it should be at $6000.00 per unit. It did display some very clever engineering that allows a user to switch barrels and even change calibers with no gunsmithing. Check out the video for a review of the many unique features of the MRAD.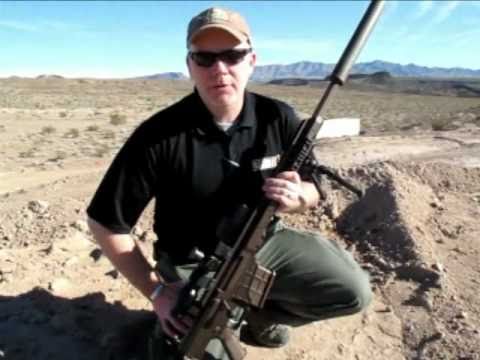 Crosman's Computer-Controlled Airgun
Perhaps the most innovative (or at least technologically advanced) rifle on display wasn't officially a "firearm" at all. Crosman's new Benjamin Rogue, pneumatic varmint rifle actually has a microprocessor-controlled "fire control" system. Yes this state-of-the-art airgun actually has an internal computer that monitors the available air pressure, and sets the output level according to the bullet weight and desired velocity. This is no Daisy B-B gun — the Rogue is big and bulky. But it also delivers the hitting power of a 38 Special, all without a single kernel of gunpowder. Crosman's Rogue will launch a 145gr polymer-tipped Nosler bullet at 850 fps. Just run the numbers and you'll find the Rogue delivers as much terminal energy as many centerfire pistol cartridges.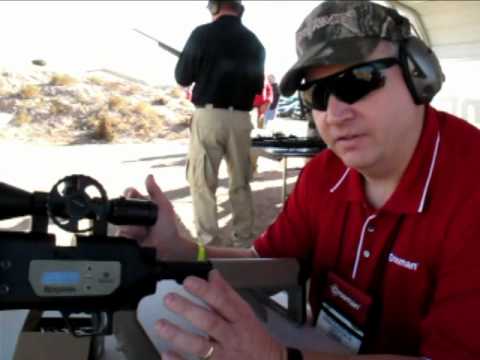 Polymer Cartridge Casings from PCP
A Florida-based company, PCP Ammunition, unveiled a truly revolutionary product — polymer-cased ammo. The "cartridges" have a metal rim/base section (like shotgun shells) but nearly all the cartridge body is a tan-colored high-strength polymer. No, this product won't do reloders much good, but it could be a huge "hit" with the military, as a polymer case is at least 25% lighter than brass. PCP Reps claimed that PCP's plastic-bodied ammo can withstand loads that would be considered "full presure" in conventional brass. Stay tuned for further updates.
Similar Posts:
Share the post "MEDIA Day — Some Interesting New Products"
Tags: .338 Lapua, AirGun, Barrett, Brass, Crossman, Media Day, MRAD, Plastic Cases, TRG42