January 20th, 2011
SHOT Show Report: Long-Range Champ John Whidden
While visiting the Forster Products booth at SHOT Show yesterday, we had a chance to chat with three-time National High Power Long Range Champion John Whidden. John was his amiable self as usual, sharing his match-winning experience with Kelly Bachand, a young .308 Palma shooter. John and Kelly are squadded together on the U.S. National Team that will be going to Australia for the World Full-bore Championship later this year.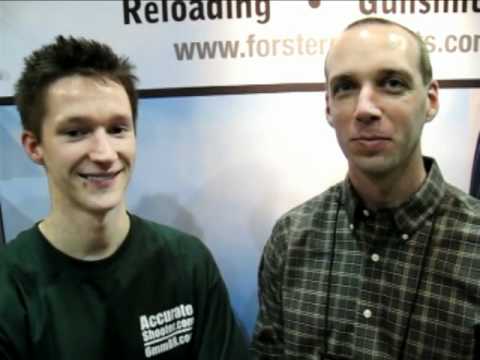 John shared his thoughts on shooting the .243 Win in competition and he also discussed the advantages of a V-Block system in a prone rifle. With a good V-Block you can use the same stock with different barreled action. You can even change between centerfire and rimfire in the same gun. John uses V-Blocks in his own rifles, and Whidden Gunworks makes V-Blocks for Remington, Rem Clone, and Savage Actions.

Similar Posts:
Share the post "SHOT Show Report: Long-Range Champ John Whidden"
Tags: Australia, Camp Perry, John Whidden, kelly bachand, Long-Range, Prone, V-block