January 28th, 2011
SHOT Show Report: McMillan's New A3 Sporter Stock
McMillan unveiled a new stock that should appeal to readers who like McMillan tactical stocks but want something with greater versatility for sitting, kneeling, and standing shots. The new McMillan A3 Sporter combines the popular features of the A3 tactical stock with a redesigned fore-arm, plus a buttstock with more drop at the rear. For a tactical shooter, the feel of the handgrip and comb will be familiar. However, the buttstock will fit the shoulder better when standing. Also a flared beavertail has been added along the fore-end to provide more secure placement for your front hand.

Photo Courtesy Cloud Peak Gunworks. Custom Hydro-Dip Finish.
McMillan's Dick Davis explained: "Our tactical stocks — the A2, A3, A4, A5 — are designed as prone stocks. The comb is very high and very straight, and they have very little drop at heel. They're made to shoot when laying down on the ground. They don't shoot well standing up offhand as a hunting stock". Davis added: "The tactical shooters have been bugging [us] for years for a hunting stock they can shoot offhand". For its new A3 Sporter, McMillan has modified the butt and the fore-arm to create a better platform for hunters. Now, Davis says: "We have a good off-hand stock with a vertical, tactical-style pistol grip that the tactical guys are used to shooting".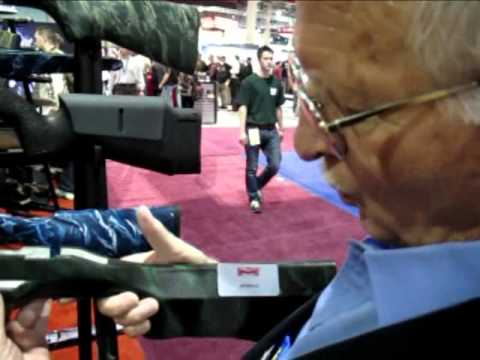 Benchrest Stocks — Good for Varminters As Well
In addition to the A3 Sporter, Dick Davis explained some of the differences between the older style McMillan Benchrest stock design, and the more modern Edge stock. Both stocks can work very well in a competitive benchrest gun, but they can also function very well for a varmint rifle shot from a front sandbag or pedestal rest. For a varmint gun, we actually really like the older benchrest stock. It has a comfortable hand grip and the round toe on the buttstock works well for bag-squeezers. Davis confirmed that this stock is quite popular with varminters: "Over 1/3 of McMillan benchrest stocks are used in field varmint rifles". Shown below is the original McMillan benchrest stock.
Similar Posts:
Tags: Benchrest, Buttstock, Cloud Peak Gunworks, Edge, hunting, McMillan, Stock, Tactical, Varmint Rifle