January 20th, 2011
SHOT Show Exclusive: Interview with Sherri Gallagher
SGT Sherri Gallagher of the U.S. Army Marksmanship Unit had a spectacularly successful 2010. First she won the National High Power Championship convincingly, setting records in the process. Then young Sherri earned the title of "Soldier of the Year". Sherri is the first women ever to be honored as the U.S. Army's Soldier of the Year.
When we learned Sherri was staffing the USAMU booth at SHOT Show, we headed straight there with the hopes of chatting with America's premier lady rifle shooter. Our correspondent Kelly Bachand was eager to talk to Sherri, as they are friends who once shot together on the U.S. National Junior team. You should really take the time to watch this video. Sherri is very open and candid about her shooting accomplishments, and she offers advice that will help any shooter.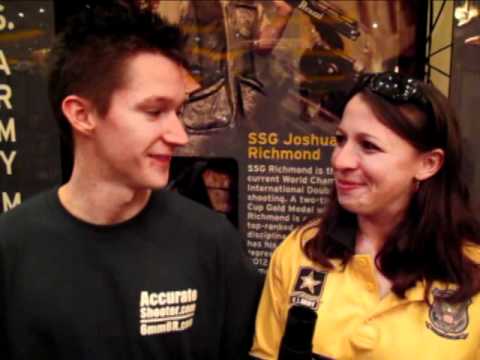 Similar Posts:
Share the post "SHOT Show Exclusive: Interview with Sherri Gallagher"
Tags: 260 Rem, Camp Perry, Nancy Tompkins, Sherri Gallagher, Soldier of Year, USAMU